Posted on
Thu, Jan 26, 2012 : 5:55 a.m.
Unruly dog? His DNA might be behind the behavior
By Lorrie Shaw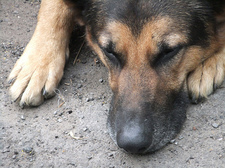 flickr photo by Lee J Haywood
I hear the same thing from a lot of new dog owners: My dog doesn't seem to be able to calm down and focus.
I'm never too surprised to hear this, because it happens for a lot of reasons.
Age can be a contributor (puppies and young dogs have a short attention span), the surroundings can be a factor (if you're in an area where there is a lot of stimulation, like people, noise, other dogs, activity) and so can their overall physical and mental state. For example, if a pooch is tired or too much time has been spent in a training session, its mind wanders.
Many times, we humans just need to adjust the environment or try to engage at a later time when our furry friends are more receptive.
A new study sheds light on a different aspect altogether that can affect impulsive behavior and whether a dog has a problem settling down.
Genetics was a factor that was found to weigh heavily on impulsive behavior.
That's right. Genes that are linked to the production of the neurotransmitters dopamine and norepinephrine — connected to the ability to focus as well as emotional responses.
Researchers at Eötvös Loránd University, in Budapest studied more than 100 dogs and gave them four behavioral exams, one of which was to being able to lie down quietly. Out of those, 37 German Shepherds that possessed a shortened version of the gene connected to the neurotransmitters had trouble controlling their impulsivity.
Age, level of training nor sex seemed to have any bearing on the outcome.
Dogs included in the study that had long versions of the gene, passed the impulse-tests with ease.
Read more on the study by clicking here.
Lorrie Shaw is lead pets blogger on AnnArbor.com and owner of Professional Pet Sitting. Follow her pet adventures on Twitter.