Posted on
Fri, Mar 22, 2013 : 2 p.m.
Study indicates that comforting your fearful dog is helpful, not counterproductive
By Lorrie Shaw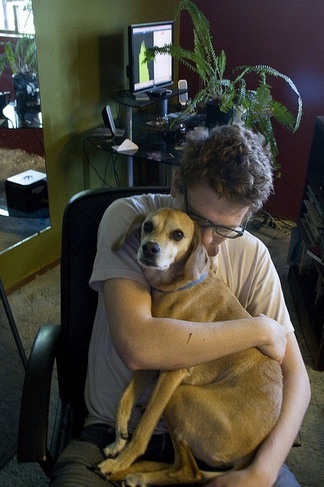 Flickr photo by Katie@!
There is a lot of hypothesizing about
canine
behavior these days, and when it comes to fearful behavior and responses, the opinions about how to address them are as numerous the causes of the behavior.
A fear-based response can happen for a lot of reasons, and whether it be, for example, unfamiliarity with a new situation (as with a puppy) or in the case of an older dog who has been rehomed (whose socialization may be unclear), fear is fear.
With animals, fear serves them well at its core — it keeps them out of harm's way and allows them to quickly distance themselves from danger, enabling them to navigate emotionally and bookmark the experience for later reference.
But when it moves beyond that, it can be a real problem, as with repetitive exposure to profoundly challenging situations or when a pet is not properly socialized.
I often get phone calls from pet owners who understand that their furry friend has difficulty with new experiences or when they are faced with a specific experience that is known to elicit a fearful response. They would rather find a solution (like a pet sitter or a buddy to come in for some one-one-one interaction on a regular basis) than put them in a situation that exacerbates the problem. With some pets, the process of empowering them to get reacquainted with their world with less fear can take years, or it may never happen at all.
Finding the right caregiver who can pitch in when said dog's people can't be there is a good move and can make all the difference.
I ran across a recent article by Stanley Coren, Ph.D. that reminded me how important trusted humans are in a dog's life.
Coren discussed the "Safe Haven Effect" as it relates to canines.
Previously, we've associated this behavior with children while they are experiencing something scary or stressful. During these events, they seek the closeness and even physical contact from trusted adults as a reaction.
By studying the physiological responses and other data, we know that a child's stress is greatly reduced as a result.
But as one study illustrates, this behavior is also seen in dogs.
Researchers at Eötvös Loránd University in Budapest, Hungary decided to explore the "Safe Haven Effect" by employing something called the "Strange Situation Test," a way to test the emotional attachment of children to their trusted people.
The results of the study, led by Márta Gásci, were intriguing.
Behavioral responses were measured, along with physiological reactions, like heart rate. (The latter, when it's increased, indicates a higher level of stress.)
The details of how the study was carried out can be seen by clicking here, but dog owners should find the data from it to be helpful: when dogs meet with a stressful situation, their overall anxiety level is decreased when their trusted humans are nearby. Further, when this is the case, our presence in these situations has a protective effect for future exposure to stress.
The data reinforces the idea that comforting a pet is not counterproductive when they are experiencing something frightening, as well as the importance of properly socializing a dog not only with other animals, but the world at-large.
Lorrie Shaw leads the pets section for AnnArbor.com and owner of Professional Pet Sitting. Shoot her an email, contact her at 734-904-7279 or follow her adventures on Twitter.