Posted on
Thu, Feb 16, 2012 : 5:56 a.m.
Dogs as chick- or guy-magnets? Experts say they are
By Lorrie Shaw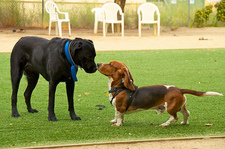 A couple of days ago I was listening to the Diane Rehm Show as I was driving between appointments, and of course since it was Valentine's Day, the topic was on dating and matchmaking.
When I started listening, the conversation had turned to dogs as ice breakers in approaching someone (or attracting someone), so that piqued my interest. Anything that involves dogs will do that.
One listener — Juile from Provincetown — noted, "One other way to meet people these days is to walk a dog, an interesting dog. It's guaranteed to attract people and create a way into conversation."
I'd say that's a fair statement.
When I'm out dog walking, people in general are more apt to smile, make eye contact — and to even say 'hello' when a dog is at my side. Yep, dogs are great ice breakers.
"That's one of the 365 proven ways in my first book. And if you don't have a dog, borrow a dog," says professional matchmaker Janis Spindel.
Spindel, who is author of several relationship books including "Get Serious About Getting Married," notes that dog parks are great places to meet people.
"Again, it goes back to focusing on what you're doing, not who you're meeting."
Dogs are well-integrated into our human social structure — unlike cats — so it makes sense that they have a tendency to attract people to each other, no matter if it's in passing or if there's an attraction.
Years ago when I met my better half, Chris, we each had a dog and one thing that drew us together was the importance of our respective pets in our lives.
I know of one couple who met walking at Hudson Mills while walking their dogs. They later married and have expanded their canine brood.
So, this all really got me thinking and here's my question: In one way or another, did you meet your significant other because of your dog, or your affinity for the species?
Feel free to explain with your comments below.
Lorrie Shaw is leads the pets section for AnnArbor.com. You can follow her daily pet adventures on Twitter and subscribe to AnnArbor.com's email newsletters.