Posted on
Wed, Mar 21, 2012 : 9:19 a.m.
Don't allow distractions to erupt into fights when walking your dog
By Julia Levitt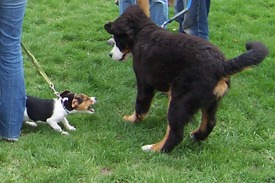 Julia Levitt | Contributor
Dogs fighting can be very scary.
What if you encounter a dog that is at the end of its retractable leash — pulling the owner toward you and your dog? Often the end result is dogs getting tangled in their leashes, owners shouting, and a lot of snapping and gnashing of teeth — from both dogs and owners! What to do?
Prevention is the key. When you are walking your dog, do you:
Talk on the phone?
Listen to your iPod?
Let your dog pull you along?
Do not "check out" on a dog walk. This is the perfect bonding exercise for you and your dog. The walk gives the dog mental as well as physical exercise.
Why? Dogs are hardwired to follow a leader, and that leader is you. If a dog is leading the walk and you are following, the balance is upside down. Ideally, the dog should walk calmly and be relaxed at your side. And this the key to preventing a dog fight.
If the dog is walking calmly at your side and then pulls ahead of you, you are going to feel it and correct it instantly. When the dog is ahead of you, it has already made many decisions in which you did not take part: where to walk; when to stop; and who to react to — a squirrel, a cat, a person, another dog, a bike. You get the idea.
When the walk is done in a calm relaxed way, with the dog by your side, you will see what your dog sees, and you will be the one making the decisions. Isn't prevention the key here?
What if the dog you encounter is not on a leash? The same advice applies. Only now you will stop! You and your dog must stand still.
This is a huge test of your skills. You and your dog must remain calm. If you allow the situation to escalate, you'll have a chaotic problem that this blog cannot address. Yes, calmness is the key, prevention is the key — a well behaved dog is the key.
If you invest time in your dog, the pay off will be huge. As you can tell, this is crisis management and crisis prevention. If you have "tools" in your tool box, you will be prepared to see a potentially problematic situation and handle it knowledgably and ensure no one gets hurt.
Julia Levitt is the founder of In Harmony Dog Training (www.inharmonydogtraining.com) in Ann Arbor. She can be reached at julia@inharmonydogtraining.com or at 734-645-4707. Julia provides individual training for dogs and their owners, and also conducts dog training classes at Ann Arbor Animal Hospital.