Posted on
Tue, Jul 24, 2012 : 6 a.m.
Edible foraging toys are a great way to offer exotic birds fresh, healthy foods
By Lorrie Shaw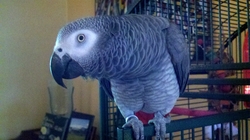 Lorrie Shaw | Contributor
The exotic birds that I care for love fresh vegetables, and fruits and they get a lot out of foraging for treats and food.
Both are really important for their well-being — both physical and mental.
In their natural habitat, they are able to look for their food and eat it fresh. In order to get to the edible parts of what they find, they need to work for it, so to speak. It's a good thing and an essential part of their nature. These birds love a challenge.
I'm always looking for creative ways to help keep birds like African greys, Goffin's cockatoos and blue fronted Amazons engaged and happy during the time that they are in my care.
Edible foraging toys are an easy and fun way to give exotic birds just what they need.
Most clients offer a variety of foods to their feathered pets, like fresh fruit and veggies or warm omelet wedges packed with nutritious ingredients like beans, seeds, veggies and hot peppers, as well as dry seed/nut mixes and commercially available pellet diets.
Feeding fresh foods is great — but in most cases they are prepped as needed and simply plopped into a clean ramekin or ceramic dish that fits into spots around the bird's enclosure. Easy enough, right?
Offering the food this way makes sense: It keeps the food neatly away from dry foods, extending their freshness and appeal to the bird. Plus, it's important to keep things clean and free from bacteria.
Most commercially foraging toys are designed for dry pellets, which don't make a mess and make for easy cleanup.
Because of that, getting creative with how to serve these wet and sometimes sticky foods can be a challenge.
But why not use the food itself as a foraging toy?
Birds of all sizes can benefit from using things like a fresh acorn squash that's been cooked slightly, cut in half and filled with the scooped-out flesh that's been mixed with their other veggies, fruit and maybe some rice or quinoa. By putting the filled halves back together, secured with wooden skewers and offered in a bowl, the natural foraging feeder is ideal.
Root veggies like carrots can be hollowed out in placed and stuffed with other smaller veggies like green beans, berries, bits of broccoli and the like and can offer a bird fun and a healthy meal at the same time.
For other ideas on how to create edible foraging toys for birds, click here to read the original blog post on birdtricks.com.
Lorrie Shaw leads the pets section for AnnArbor.com and is owner of Professional Pet Sitting. Connect with her on Google + or e-mail her directly.