Posted on
Wed, Nov 9, 2011 : 5:55 a.m.
FDA launches project to increase vigilance and testing for salmonella in pet food
By Lorrie Shaw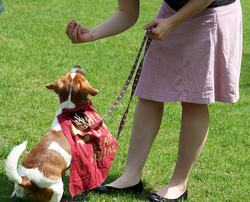 flickr photo by quinn.anya
More than a handful of entries in the AnnArbor.com pets section have been in relation to pet food recalls.
Since 2007, when the largest recall was issued afer the discovery that finished pet food product had been adulterated with melamine and scores of dogs and cats fell gravely ill or died, the Food and Drug Administration and pet owners have been on high alert to ensure that pet food that is sold is safe.
In this year alone, a small number of recalls have been issued by manufacturers because of levels of core nutrients that were registered as too high or too low in quality assurance tests.
Others proved to be much more of a health concern: the FDA issued handfuls of recalls for both dry kibble-based and raw pet food formulas stemming from one very concerning culprit — salmonella, or salmonellosis.
This spike in salmonella-based recalls prompted the FDA to take further action to examine the safety of pet food, which includes not just cat and dog food and treats, but also consumable products formulated for rabbits, reptiles, birds, aquarium fish and rodents such as hamsters, mice and guinea pigs.
The concern isn't just for the health of pets — people can be made sick by contaminated pet food as well. The connection might be a bit confusing since humans aren't eating the food or treats, but the explanation is easy: simply handling bacteria-laden products and having hand-to-mouth contact can result in illness.
The FDA's plan is to test pet food, treats and supplements to get an idea of just how many of them are contaminated with salmonella to begin with, as well as the "genetic fingerprint" of each strain — some of which have found to be antibiotic resistant.
Getting salmonella-contaminated products out of the stream of interstate commerce is also an objective. The existing Lot Number and UPC code system that is used will continue to be an integral part of keeping track of where those products are.
In a memo released Oct. 24, the FDA explains:
FDA's Center for Veterinary Medicine (CVM) is concerned about animal feeds serving as vehicles for transmitting pathogenic and antibiotic-resistant bacteria to humans and other animals and is particularly concerned about Salmonella being transmitted to humans through pet foods, pet treats, and supplements for pets that are intended to be fed to animals in homes, where they are likely to be directly handled or ingested by humans. In this document, "animal feed" is used to mean "food", as defined in section 201(f) of the Federal Food, Drug, and Cosmetic Act (the Act), for animals.
Canned food and imported products in either import status or domestic imports will not be included in testing.
The risk of getting sick is usually from touching contaminated food then touching one's mouth, as The Centers for Disease Control and Prevention states.
In humans, the illness is characterized by nausea, vomiting, cramps, diarrhea, fever and chills.
In cases where a young child becomes ill with the bacteria — or a person in any age group with a compromised immune system — the risk is higher and symptoms more dangerous. The elderly also fall into this category. Click here to learn more about what you need to know about increased risk factors.
There are more than 2,000 strains of salmonella.
Very young and very old pets are most susceptible to the bacteria and suffer the effects most profoundly. The most common symptoms associated with salmonella are vomiting, diarrhea and fever. Companion animals presenting with symptoms are treated with IV fluids and antibiotics. Read more by clicking here about why the bacteria is a risk to pets.
As someone who has contact with pet food and treats with their bare hands on a frequent basis — just as surely as any pet owner does — I can offer simple tips that can keep every member of the family safe.



Wash your hands thoroughly after handling any pet consumables, whether you are feeding them treats, or scooping food out of a storage container or bag. I forgo using antibacterial soap in favor of a gentle liquid soap — and employ proper handwashing techniques.



Since children under the age of two are one of the largest demographics of humans to become ill with the bacteria, special care needs to be taken to keep them away from pet dishes and pet food.



Wash pet food bowls and dishes with hot water and soap regularly.


On the other side of the coin, if a pet becomes ill and their food is suspected to be a culprit, it can be hard to know what to do. The fact is, pet owners and veterinarians are the first to report a potential problem, since many recalls start with a sick animal.
Read more on the release from the FDA on their plan to help pet consumables be safe for you and your pets by clicking here.
As always, you can be assured that any recall or alert issued by manufacturers or the FDA is updated here immediately on the AnnArbor.com pets and animals section. Browse the pets section to see past recalls.
Lorrie Shaw is lead pets blogger for AnnArbor.com. Catch her daily dog walking and pet sitting adventures or email her directly.