Posted on
Thu, Jun 17, 2010 : 9:30 a.m.
Success of first 'Dog-Up' is sure to inspire pet lovers locally
By Lorrie Shaw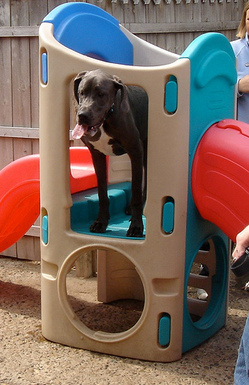 Photo courtesy of Nikki Stephan
When dog owner
Erica Finley
joked in a tweet about having a "Dog-Up" a few months ago, she had no idea that it would create such a stir.
What started out as a simple idea for 15 or so familiar folks to meet at an arranged place with their dogs to shoot the breeze, exchange musings about their dogs and give their furry friends a chance to blow off a little steam with members of their own species turned into an event that was attended by 60 people and 75 dogs over a three-hour period on April 11.
To boot, it raised more than $500 for a Michigan-based animal charity.
I watched this unfold when I would log into Twitter, and was blown away by Finley's natural ability to connect people. That such a positive idea, centered on pets, took off so quickly due to the use of social media really stuck in my mind. Getting the details was something that I had to do.
Finley, of Royal Oak, notes that she understands as a dog owner, it can be difficult to do things socially, as many places and situations are not pet-friendly. Some people aren't pet owners, and taking your dog with you to their home is not an option.
In the early spring of this year, she knew the solution lay in the concept of a free outing that she could share with her pooch-loving friends, and included her now 15-month-old English Bulldog, Mona. In the current economic climate, things are financially challenging enough and keeping it free of charge was a must. After making the inadvertent comment on Twitter, Finley started to get an incredible amount of positive responses. (In fact, in the week leading up to the event, #dogup was mentioned a total of 279 times.)
Liz Blondy, owner of Canine to Five in Detroit, got wind of Finley's idea and offered her 4,500-square-foot play space as the venue. Kaylee Hawkins, a friend of Finley's, got her in touch with Mariah Cherem, senior community manager for Yelp in Greater Metro Detroit. Things really got moving then.
The folks at Yelp had been yearning to make their foray into doing animal rescue fundraisers, and the Dog-Up concept seemed to be a great pilot to see how well that might work. Volunteers from the company pulled together and baked homemade cookies, and other goodies, which included gluten-free and vegan selections for both the human and canine attendees.
Animal Welfare Society of Southeastern Michigan was selected by Yelp as the organization that would receive proceeds from the event. Zingerman's donated coffee. Another friend of Finley's used her talents as a graphic designer to create fliers; it was important that those who were not tech savvy got wind of what was planned, too. The ball kept rolling: gift certificates that were raffled off were donated by Wheelhouse, Fenders, Traffic Jam, Canine to Five, Omni Hotels, Petco and Mod4. Everything defied expectations.
When asked if there would be more Dog-Ups, Finley offered, "I'm shooting for another in the fall! Having two events per year would be great." Adding that the endeavor does take an immense amount of planning and networking, ample time is needed to ensure that it comes together smoothly. Her background in public relations made her a natural for getting the first Dog-Up off of the ground.
"The social media element was crucial to its success," Finley emphasizes, also noting that she has been contacted by others who have taken an interest in doing the same elsewhere.
Advising that there are a few things to keep in mind, like emphasizing to attendees that their dogs need to be in good health, friendly and up to date on all of their shots. Not being afraid to reach out to the community is key, too: when you ask, most people are willing to be a part of the process.
Lorrie Shaw is a pet blogger, a regular contributor to AnnArbor.com and owner of Professional Pet Sitting. She has extensive experience with animals including dogs, amphibians, exotic birds and cats. Contact her via e-mail.