Posted on
Sun, Sep 12, 2010 : 12:05 a.m.
Partnership between AKC Canine Health Foundation, Pfizer to research frontiers of disease and treatment in pets
By Lorrie Shaw
Most pet owners today can attest that advances in research and pharmacology have enabled our pets to live longer, healthier lives. From areas like diabetes care, veterinary oncology to managing arthritis, today's pets have advantages over their predecessors.
The Associated Press reported recently that an exclusive partnership between Pfizer - which will provide $500,000 over a two-year period to fund areas of applied and basic research in canine health - and the American Kennel Club Canine Health Foundation.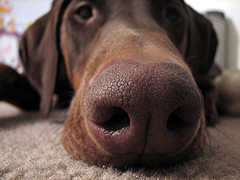 flickr photo courtesy of bazusa
The intention is to foster better prevention, treatment and potiental cure of disease in dogs.
In June, the FDA approved the first drug, Palladia, to treat mast cell tumors, developed by Pfizer. Palladia was developed in Kalamazoo, and its active ingredient is produced in Portage. Previously, cancer drugs designed for humans had to be used in the treatment of canine cancers without knowing the safety of the drugs. Mast cell tumors are cancerous tumors of the skin, and are common.
The alliance's work will be a boon to animals, but may result in a secondary benefit: offering insight into human health.

Lorrie Shaw is owner of Professional Pet Sitting and a pet blogger on More Than Four Walls. She is also a regular pets contributor on annarbor.com where she examines topics ranging from social issues, health and behavior. Your contact is welcomed via e-mail.