Posted on
Mon, Apr 18, 2011 : 5:57 a.m.
Grieving pet owners get needed support through social worker's partnership with HSHV
By Lorrie Shaw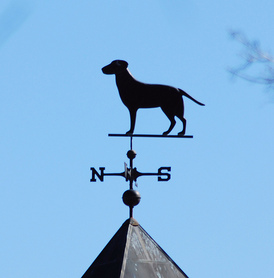 Flickr photo courtesy of BobMacInnes
All the people you meet have some sort of grief over loss of loved ones that they are carrying with them, whether it's fresh or years old.
Life doesn't stop, people carry on and all seems well — or is it? What about when someone loses a pet — also a loved one? Is the grief any different? Cōlleen O'Brien, a state-licensed master social worker, says no, it's really not, and for many reasons.
"When you love another living being, you love them," she says.
For many people in our culture, O'Brien explains, the relationship with pets is the most solid, enduring connection that they have. When the pet dies, life is far from ever being the same.
Pet ownership is at an all-time high and has been undergoing a fast-changing evolution. O'Brien says that some interesting things have facilitated the surge in sharing life with companion animals — and sometimes even multiple pets. Lifestyle choices are different overall, but factors like couples choosing to go childless and a changing work life are key.
Some say that having the sort of connection to a companion animal is unhealthy, but is it?
As humans, we have the need for contact, joy and communication. We can have joyous connections to each other as humans and have physical contact and communicate, but with animals, it's so different. Sure, with a pet, there isn't the drama to deal with: We get a warm greeting each time we arrive home. What's not to love about that?
Consider this, though, before you say that people who have a strong connection to their pets are unbalanced: It could be that animals bring out untapped resources in ourselves that we don't use as much as when we are spending time solely with most humans. These are resources are essential to our overall well-being and bring us to our core:

Our non-verbal communication skills: We need to rely more on visual cues, body language, eye contact — all skills that we tend to get away from as we enter adulthood.


Play: The diversion, joy and other benefits that frolicking offers is immeasurable. We need it.


The opportunity to have meaningful physical contact: The act of petting a companion animal is connective and joyful for both parties, and it just isn't something that we humans do with each other.


Because of all that, it's likely that we have an easier time bonding with pets, and as O'Brien notes, "Our primal senses are so necessary with pets."
Also, emerging work done in neuroscience and animal behavior suggests that there is more to the human-animal bond than first thought. One of the most exciting areas of study is the effects of oxytocin, a neuromodulator that is a biological factor in bonding.

Sharing life with a pet is interesting to say the least. It's one of those relationships that is enduring and fast-evolving. Think of how long our pets live — dogs live an average of seven to 15 years, cats can live to be 20-plus years old, and exotic pets like parrots usually outlive their humans. Some of us share an incredible chunk of our lives with one pet alone.
If you consider this very common example of a cat's life, it's helps to illustrate a bit better: Many cats enter the picture when couples are young and newly married. Through the years, there are milestones that occur — new homes that are inhabited, babies that are welcomed that then grow into school-age children who then graduate high school, (and in some cases are in college).
By this point, the beloved pet is still around, albeit elderly — and yet they're still there experiencing day-to-day life just as we are. They have shared close to a quarter of their human's lifetime. (Looking at it this way, I've had two of my pets in my life since I was 29 years old. Yikes, that's a huge portion of my life.)
Now, imagine that presence being gone. It doesn't seem as insignificant, does it?
Being able to express one's emotion and grief is an important part of the grieving process after the loss of a pet. It can be hard though, in the face of our culture; it's not always the ideal environment.
O'Brien is acutely aware of how difficult the process is. After losing her beloved blue merle Chihuahua, LiLi, in 2007, O'Brien had great sadness. But she had one important thing to accompany it: Support from the people around her. Loved ones and friends were integral in the day-to-day moments that would present themselves after LiLi's passing.
Being a experienced social worker, O'Brien was all too aware of the stresses that people of all ages endure in daily life. She thought about her recent loss, and how hard it was — and how she had a loving support system in her life that valued pets as much as she did. Over the years, she recalls times where those in this support system had lost pets, including those in her family. The nurturing environment always proved to be valuable in working through the grief.
O'Brien knew that there were other people who did not have that luxury of having a supportive environment in which they could grieve freely and express their sadness, left to grieve alone. She wanted to change that. She decided to incorporate pet grief and loss support into her practice, Blue Dog Counseling, where clients are given tools to help them work through the stresses of life in a safe, open environment.
Fellow pet lovers Tanya Hilgendorf and Kelly Schwartz, both with the Huron Valley Humane Society, knew O'Brien and her work. O'Briendecided to approach the organization about extending the reach of offering help to grieving pet owners by perhaps starting a pet grief and support group to meet there.
"The Humane Society could not have been more receptive and enthusiastic about the idea," says O'Brien. "They had recognized the need and were looking for ways to offer help to others, so this was a good fit."
So, just over a year ago, the Blue Dog Counseling Pet Loss Support Group started at HSHV and has grown into a thriving community of supportive people who have one common thread. It's a place where they can gather; they can laugh, cry, listen, nurture — or just sit and absorb, freely without judgment.
You see, grief is a process. It's one of sifting through and acknowledging, and there isn't any one specific way to wade through it. Within the support group, there is strength in numbers.
Pet loss and grief groups have grown in numbers across the country, which is showing a positive shift in thinking.
Those who have lost a furry or feathered friend recently aren't the only ones joining. There are people who are preparing for the prospect of, or in the midst of end-of-life care with their pets (also offered as a separate workshop) that find the community-building experience valuable.
Some people bring someone they trust along with them, as additional support. This is helpful, as for many individuals having trouble coping, just taking that first step to even walk through the door is hard. What's interesting is that some of those very people who are acting as a helper to someone else find that they find the sense of community that's there is comforting to them as well, even realizing sometimes that they have some unresolved stuff to work through.
The Pet Loss Support Group takes place on the third Sunday of each month at HSHV and is held from 1 to 2:30 p.m.
Other workshops on similar topics, like talking to children about pet loss, and deciding on if one is ready for a new pet are upcoming.
O'Brien also facilitates workshops for Compassionate Care Givers and Animal Care Volunteers, as their work can be quite stressful, mentally.
It's wonderful to have that support system to tap into with a support group, but one that is accessible more often is helpful. Because we all see relationships with pets differently — which is fine — it can be difficult for pet owners and non-pet owners alike to be helpful and sensitive to those around them that are grieving. O'Brien gives some pointers to those who want to be supportive, but don't know how.

Be supportive. In other words, just focus on the other person. Listen to their story, ask how they're doing. Acknowledge their emotions.


Avoid avoiding the person — It can be difficult to try and approach your friend when he or she is reeling from the loss. Avoiding dialogue and a sense of normalcy can make people feel more isolated — as can avoiding the topic of their pets' death.


Don't offer solutions. Unfortunately, there are no solutions to a pet dying. Most people tend to go into "fix-it" mode, which is counterproductive. We've all heard people say, "Oh it'll be OK," or " You'll feel better ... my sister lost her dog a few years ago, and she's fine, now."


O'Brien works with people on an individual basis as well, and uses art, meditation and music as a tool to help. These positive approaches are useful as they help humans experience grief in different ways, and enhances the ability to express it more effectively. Having multiple outlets is essential, because finding what works on an individual level helps O'Brien devise a plan for healing.
Cōlleen O'Brien is a state licensed Master Social Worker in both clinical and macro practice, and received her bachelor's degree in psychology from the University of Michigan and her master's degree in social work from Eastern Michigan University.
Blue Dog Counseling is located at 302 N. Huron St. in Ypsilanti. For more information call 734-635-0872 or visit the website.
Lorrie Shaw is lead pets blogger for AnnArbor.com and has previously written about end-of-life, palliative and pawspice care and euthanasia. She welcomes your contact via email, and to follow her daily adventures as owner of Professional Pet Sitting on Twitter.