Posted on
Mon, Apr 2, 2012 : 10:20 a.m.
FDA launches recall of popular fish food because of possible salmonella contamination
By Lorrie Shaw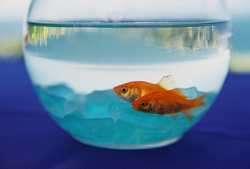 flickr photo by madprime
Pet food recalls are always updated here on the AnnArbor.com pets section, and over the past couple of years you've read about recalls issued by manufacturers, pet food companies and the Food and Drug Administration that affect the products that we feed our four-legged family members.
One recall notice issued on the FDA's website on March 30 will be of interest to a completely different demographic of pet owners: those with fish.
Salmonella is at the root of the problem, and although the company behind the recall hasn't received any reports of animals or humans becoming ill as a result of coming into contact with this product, they're taking immediate action to remove the product from all retail stores and distribution points.
The Hartz Mountain Corporation, based in Secaucus, N.J. is voluntarily recalling product from four specific lots of Wardley Advanced Nutrition Perfect Protein Tropical Flake Fish Food 1-ounce size that was shipped across the country from Dec. 20, 2011 through March 15, 2012, because of concerns that one or more containers within the specified lots may have been potentially contaminated with the bacteria.
Despite the fact that no illnesses have been reported, one major concern as I see it has to do with a specific demographic of humans that may be handling the product: children.
Fish are a popular first pet with young children, and feeding them is easy for little ones to handle.
And, because of their unsophisticated immune systems, they are more susceptible to becoming ill from contact with salmonella. Ditto for those with compromised immune systems and the elderly.
Salmonella, also referred to as salmonellosis, causes digestive problems, and humans will typically present with fever, diarrhea, vomiting, and weakness. Other symptoms can occur.
Salmonella is transmitted by ingesting the bacteria. Even if a child doesn't eat the product, any residual bacteria on little hands can end up in children's mouths, so care needs to be taken. Hand washing is a must when handling any pet food that may be contaminated with the bacteria.
Fish owners that have purchased this product should check to see if the following UPC number 0-43324-00591-7 and corresponding lot codes PP34911, PP34912, PP35011 or PP35012 are imprinted on the container. If you have one, you should immediately discontinue use of the product and discard in the trash.
To keep up to date with current recalls and information on pet food safety, visit the FDA's website to view the updated list that includes not only dog and cat foods, but also horse feed.
As always, you can stay up-to-date on all pet-related consumable recalls here on the AnnArbor.com pets section.
Click here to read more on the recall, and how to get a refund for the product.
Lorrie Shaw leads the pets section for AnnArbor.com. Catch her daily dog walking and pet sitting adventures or email her directly and subscribe to AnnArbor.com's email newsletters.