Posted on
Wed, Apr 27, 2011 : 11:15 a.m.
Hope for dogs with storm or noise phobias
By Lorrie Shaw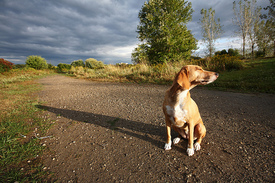 Flickr photo courtesy of TheGiantVermin
One of the things that I hear from dog owners frequently is that their dogs are frightened of storms. I always ask, "Are they frightened of the storm itself — or the noise of the thunder?"
The responses seem to be about divided right down the middle. That's interesting, because one would think that the noise of thunder would solely be a trigger for dogs. Then again, canines use all of their senses much more effectively than humans, so there's a possibility that they pick up on other cues that are a signal to them that a storm is coming.
I had a black Labrador retriever years ago that was deathly afraid of storms, thunder, and even rain. If he smelled rain, he would retreat to the bathroom and hide in the shower stall; shivering, drooling.
It was so sad.
Our current dogs are much more relaxed when it comes to storms. Bruiser could care less, unless the thunder is really loud.
Gretchen, now that she's older, isn't fond of the noise of thunder. It seems that the noise to her these days is just different, possibly because of changes in her hearing. Simply keeping her doggy bed next to where we sleep does the trick, along with a scratch behind the ears and a kind word.
But, not all dogs are so lucky when a thunderstorm makes an appearance.
There have been a lot of solid theories as to what can trigger a pet into an anxious state when it comes to storms — the noise of thunder itself (especially in sound-sensitive dogs), or as Dr. Nicholas Dodman points out — a dog's ability to sense the static electricity generated during a storm (which evidently is an uncomfortable feeling), sensing barometric pressure or perhaps just an association with a traumatic experience during a storm.
All of these are pretty valid theories, but what I find is that people are less interested in theories and just want their pets to not be anxious. Not being able to console your dog is a disheartening thing.
There are a few things that have been floated around as effective ways to help combat the stress that our four-legged friends experience during unruly weather:
Counter classical conditioning: This method is simply based on getting your pooch to associate the noise of the thunder with something good. I wrote about this last summer in a blog post titled, "Storm Treats! Help for dogs scared by storms, thunder and lightning". Read that by clicking here.
Pressure wraps: Swaddling and deep pressure have been proven to provide both humans and animals a sense of comfort. Temple Grandin, Ph.D. expands on the topic of deep pressure in animals. Some dogs can benefit from wearing a Thundershirt, or a snug-fitting T-shirt. The theory is that the sensation of deep pressure, (in this case a variation of it) around the torso primarily, or swaddling — modulates the central nervous system, producing a calming effect.
Anti-static capes, sprays and softener sheets: The premise of using any of these is to to reduce static build up Dr. Dodman has had success instructing owners to spray anti-static spray on their dogs' paws or swiping them with a softener sheet (I'm not too keen on the latter suggestion, as even the most natural ingredients could be licked off and ingested by your pooch.) Find more about a Tufts University study on a product called Storm Defender here.
T-Touch: An approach first developed for horses by Linda Tellington-Jones, this method is used worldwide to address a number of issues, including noise phobias in canines.
Dog appeasing pheromone: Also referred to as DAP, a synthetic pheromone produced by lactating bitches. Undetectable and safe for anyone outside of the canine species, DAP has been effective in addressing anxiety of various forms for dogs, and can be found in a spray form, a collar that is worn and replaced every four weeks or in a diffuser. You might recall my talking about Feliway, the feline version of the same pheromone. DAP helps to attain an overall sense of well being in dogs.
The great thing about these specific suggestions, they are easy to implement and none of them have side effects. Depending on the severity of your dog's discomfort when it comes to anxiety associated with storms, you can tailor a plan of action that works by trying one at a time, or perhaps more than one in tandem.
For more ideas on how your storm or noise-phobic pet can gain some solace, read this 'The Other End of the Leash' blog post.
Lorrie Shaw is lead pets blogger for AnnArbor.com and owner of Professional Pet Sitting. Shoot her an email , contact her at 734-904-7279 or follow her adventures on Twitter.