Posted on
Mon, Oct 18, 2010 : 4 p.m.
Hospice care for pets: a viable option
By Lorrie Shaw
It's not something that a lot of us think about when we first get a pet: the end of their life. We're so absorbed in the newness of life (regardless of the age), and are getting acquainted with each other, that end-of-life issues are far, far away.
With advances in traditional and complimentary veterinary care, pharmaceutical options and holistic treatments, like acupuncture to manage arthritis and pain, pets can thrive well into their later years. Because pets are living longer — in some cases, 20 percent longer — the chance of serious illness and the unavoidable issues related to advanced age increases, too.
I had an interesting conversation not long ago. I was talking with someone about how many of the pets that I deal with are entering into their "final transition" and their owners ask me to come in to provide "peripheral" palliative care: to check in on the pet while they are at work, or unexpectedly away for a length of time. I ensure that the pet gets out for a potty break (if they do need it, as some have stopped eating), to check on the pet's safety, to give attention and comfort. Whether it's by sheer luck that the animal is transitioning easily into their final phase, or by choice with the owner addressing the sometimes tough transition with pet hospice, it allows for a more natural progression into death — when it's obvious that it can be allowed to happen.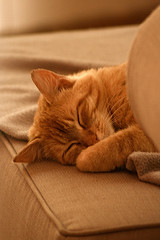 flickr photo courtesy of Alexandre Dulaunoy
The other person's reply was, in my experience, not all that uncommon: "Doesn't it just make more sense to 'put a pet down', when they get sick or old? Isn't it just easier?"
"I guess it depends. Of course, there are situations when it's best to make the choice to euthanize a pet," I explained, "but it's not always necessary, or standard. In many instances, a pet can be allowed to die naturally and quite peacefully, if given the time to do so."
There's no disputing that pethood carries its share of guilt and wrestling with our own issues as humans as far as how much time we spend with them, tending to their needs, and all of that good stuff. Add in when the twilight leg of their journey arrives — the age-related issues that our pets experience: poor dentition, hearing loss, diminished vision, challenges with mobility — and the pangs that pet owners experience grow exponentially. When a terminal illness or when a companion animal is entering into his final transition because of advanced age, it makes for a difficult leg of the journey.
For many, the process of hospice care has become a viable solution to aid families in seeing the beloved four-legged members of their family through a stage of their life that can be managed with good results. While certainly not a replacement for euthanasia, the goal of hospice care in pets is to bring a level of comfort that wouldn't be otherwise be possible, in a safe, loving and intimate environment — their home. 
The Nikki Hospice Foundation for Pets
(NHFP) is a non-profit organization devoted to the providing hospice care for terminally ill or dying companion animals. It provides valuable resources for pet owners considering veterinary hospice.
I've heard others exclaim after hearing me talk about this: "They are animals. That concept does nothing but
anthropomorphize
a pet. It's silly." Considering that dogs and cats have certainly evolved in many ways because they've lived with humans for so long, perhaps it's not so silly.
Veterinary hospice focuses on maintaining close physical contact and emotional connectivity between pet and human — and managing pain in a pre-emptive way, to keep pain and discomfort associated with end-of-life issues from becoming a problem before it starts.
Veterinary hospice also allows the family to be more integrated in the well-being of the pet, to be better able to care for them. In fact, the family is the main source of day-to-day care, including administering medication, monitoring their companion animals' condition and more.
This approach requires the humans in the pets' life to be truly involved, to be the pets' advocate — the eyes and ears, so to speak, so that they can dialogue effectively with the veterinarian that they're working with. 
This includes being in tune with the pet to gauge their well-being and to recognize signs of distress, including pain. The quality of life experienced by the pet is paramount, so when choosing hospice for a pet, (when considering any end-of-life issue, really) it also means understanding that a "bottom line" needs to be established before a time comes if and when the decision needs to be made to euthanize. 
In doing so, one can have a mental grasp on as to what is acceptable in their mind with regard to their pets' quality of life, knowing that they have made the right choice with a clear head. Some pets can become disoriented, unmanageably incontinent, or pain can get to a level that can not be managed effectively. 
Some pets become behaviorally unsafe. In these cases, hospice is utilized as an affirming, compassionate bridge to the end point of the process, euthanasia. The American Society for the Prevention of Cruelty to Animals offers more points to think about when approaching a companion animals' end-of-life needs.
Hospice is not a good option for every pet, however. A lot of folks work long hours, and they might not be ready emotionally, or be physically able to manage the task, especially if they have a large breed dog, for example. Family dynamics are certainly a consideration, too. All of these reasons are quite valid. 
The thought of a pet dying is by no means an easy thing for any owner to manage. Death is as much a part of our pets' life as is ours, and handling it with as much dignity as possible is key. Both euthanasia and hospice are tools in achieving that.
If you think that pet hospice is something that might be a viable option, talk to your vet about it and research the resources detailed above. Working with your vet as a partner and having a good rapport is important in every phase of your pet's life.
Lorrie Shaw is a dog walker and owner of Professional Pet Sitting, and is a regular contributor to AnnArbor.com's pet section with her blog, More Than Four Walls, where she examines topics ranging from social issues, behavior and, of course, pet health and ethics. Reach her via e-mail and follow her on Twitter @psa2