Posted on
Sat, Jan 22, 2011 : 5:53 a.m.
How does our perception of an animal's intelligence influence their treatment?
By Lorrie Shaw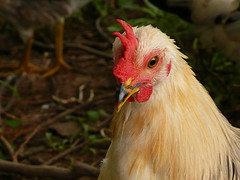 flickr photo courtesy of Steven W
The topic of animal intelligence has long been on the lips of pet owners, animal professionals and researchers, and behaviorists. Psychologist E.L. Thorndike studied the behavior of animals and even wrote the aptly titled "Animal Intelligence," published in 1898.
The growing presence of animals of all species in our lives, most obvious with dogs and cats, has changed as societies have evolved. But how has the influence of our preconceived notions about an animals' cognition and overall reasoning power and capacity to learn affected the way we perceive their intelligence and inherent value?
More importantly, does an animal's perceived Intelligence Quotient set the tone for the way that we treat them?
Philosopher René Descartes argued on the basis of dualism that only humans have minds. Although he recognized eventually that both animals and humans have a pineal gland (what he described as "the seat of the soul"), vivisection was practiced widely throughout Europe due to Descartes' assertion that animals lacked the capacity to feel pain, as they were devoid of "mind."
As time has passed, ethologists, those who study animal behavior, have given us new insights, from individual capabilities of animals to how they live in their social structures.
In many cases, one's direct experience — or lack thereof — with an animal (or entire species) greatly influences their impression of what capabilities the animal has. But how does the way that animals look sway the way that we view their intelligence? Are animals less likely to be eaten if they appear smarter?
A study done by faculty and students Oregon State University had an interesting finding: The treatment of animals is based on how their intelligence is perceived.

Read more about the study here.
Essentially, dogs and cats were at the top of the intelligence scale, and sheep, turkeys and chickens at the bottom. The term "bird brain" hasn't lost its sting.
Lorrie Shaw is a regular contributor to AnnArbor.com's pet section and owner of Professional Pet Sitting. Contact her by e-mail and follow her pet adventures on Twitter.