Posted on
Tue, Apr 10, 2012 : 7:41 a.m.
Meet the Ann Arbor.com Adoptable Pet of the Week: Katniss
By Deb Kern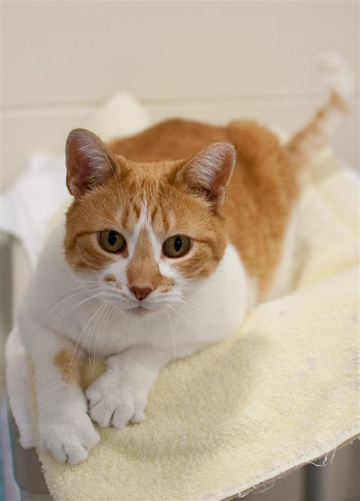 Photo by Mark Quint
If you have been looking for a sweet, older
cat
that will ease your stress with her melodic purrs, Katniss is the perfect cat for you to meet. She will crawl into your lap for cuddles and pets, and there is nothing more soothing than the love of this cat who is
a super friendly soul
.
Katniss seems to handle change well and adapts quickly to her environment, and that should make her transition into your home uneventful and easy.
When you ask any of our staff and volunteers who they think is the nicest kitty waiting for adoption at the Humane Society of Huron Valley, they will surely reply: Katniss! Sadly, Katniss has been waiting for more than four months to find her new, forever home and the reason is simple — Katniss tested positive for feline heartworm.
Cats are actually not the natural host for the parasite, which is caused by the bite of an infected mosquito. Unlike dogs, cats cannot tolerate the medication that it takes to kill the adult worms. Over time, the adult worms will die (three to four years), and by giving her monthly preventative, they should die off sooner. Some cats show signs, such as wheezing, weight loss or coughing.
Katniss does not currently show any symptoms of the disease and is otherwise in good health.
We are recommending chest radiographs every six months to monitor Katniss' condition to see if it changes overtime. HSHV is willing to pay for the first two sets of these radiographs, which will cover her first year, to the family that will give this wonderful kitty a home. If you have any questions about feline heartworm, or Katniss, please give us a call at 734-662-5585.
All of the pets at HSHV are spayed or neutered, up to date on all vaccinations and microchipped before leaving the shelter, a cost that is included in the low adoption fee.
Please stop by HSHV between the hours of noon and 6 p.m., seven days a week, to visit our adoptable animals.
The Humane Society of Huron Valley, located in Ann Arbor, was awarded the "Best Large Animal Shelter in Michigan" by the Michigan Pet Fund Alliance, for the second time in a row this year, for saving the most lives. HSHV is an independent 501(c)(3) nonprofit organization and relies solely on donations from businesses and individuals to support our community programs.
HSHV is not affiliated with the Michigan Humane Society or any other humane organization. The mission of HSHV is to promote responsible and compassionate care of all animals in our community.
Deb Kern is the marketing director at HSHV.