Posted on
Fri, Apr 6, 2012 : 11:39 p.m.
'Make Mine Chocolate': People urged to forego buying live bunnies for Easter
By Deb Kern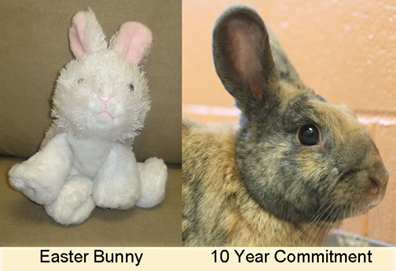 It's that time of the year again when parents are shopping for goodies that will surprise and delight their children on Easter morning. The Humane Society of Huron Valley asks families to fill Easter baskets with chocolate or cute stuffed animals, and not a living, breathing bunny.
Sadly, about four weeks after Easter, the animal intake area at the Humane Society of Huron Valley starts taking calls from families who no longer want to care for the rabbits that they bought for their children.
It happens every year: Well-intentioned adults think it's a wonderful idea at the time, but when their kids lose interest and the parents have to clean, feed and care for the rabbit, the bunnies are often discarded and relinquished to rabbit rescues and humane societies.
Rabbits do make wonderful pets, but, contrary to some beliefs, they are not always the best pet for some children.
Many children want pets they can pick up and cuddle. Most rabbits do not like to be picked up or held. They are more comfortable being next to you while you pet and interact with them. They like gentle and quiet interactions with people. These are some of the reasons that kids lose interest in having a rabbit as a pet.
For families that have carefully considered having a rabbit for a pet, there are wonderful organizations like HSHV or Midwest Rabbit Rescue & Re-home in Plymouth, that have many rabbits that have been abandoned or relinquished and need caring, forever homes.
David Brown, Treasurer of the organization explains:
Many people are drawn to rabbits because they are so cute — and in a store environment they can seem so quiet it gives the impression that they are very easy to accommodate in a home. Rabbits live to be 10-12 years old and are a significant commitment. They need a relatively large pen and time outside the pen everyday. We take in many rabbits whose owners just didn't understand the needs of rabbits when they bought them, and were disappointed when the rabbit's personality and requirements were not what was expected. Anyone considering a rabbit as a pet should thoroughly educate themselves prior to obtaining a rabbit. Rabbits make wonderful house pets in the right homes — and we would be happy to discuss rabbits and their care with anyone interested in considering if rabbits are right for them.
There are organizations that are bringing attention to the plight of rabbits that are purchased during Easter and springtime.
A national movement called 'Make Mine Chocolate' has partnered with many rescue and humane societies across our country. The goal of the Make Mine Chocolate campaign is to break the cycle of acquisition and relinquishment by educating the public about the responsibilities involved in keeping a companion rabbit before a rabbit is brought home.
The Humane Society of Huron Valley, located in Ann Arbor, was awarded the "Best Large Animal Shelter in Michigan" by the Michigan Pet Fund Alliance, for the second time in a row this year, for saving the most lives. HSHV is an independent 501(c)(3) nonprofit organization and relies solely on donations from businesses and individuals to support our community programs.
HSHV is not affiliated with the Michigan Humane Society or any other humane organization. The mission of HSHV is to promote responsible and compassionate care of all animals in our community.
Deb Kern is the marketing director at HSHV.