Posted on
Sun, Dec 26, 2010 : 12:30 p.m.
Local dog 'Storm' a jack of many trades: search and rescue, assistance, therapy
By Lorrie Shaw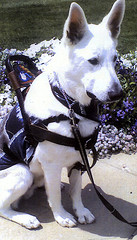 Photo courtesy of Ron Wiedbusch
Children visiting public library systems and attending various schools across the Washtenaw region have had the good fortune of having had spent time with a very special therapy dog,
"Arctic" Storm
.

You see, children by and large respond to pets — especially dogs — favorably, and they tend to be more engaged in an educational setting when dogs are present.
Thousands of children have had the opportunity to sit alongside Storm, a white German Shepherd, and read aloud to him, practicing their reading skills in a judgment-free atmosphere. Thousands more continue to take part in safety and awareness programs, like MADD and
Safe Schools Program
— with Storm in attendance as a visible and notable presence with his handler,
Ron Wiedbusch
.
On Mondays, the pooch visits patients as a therapy dog at the Ann Arbor Veterans Hospital in the community living area. Ditto on Wednesdays, where Storm hangs out with residents and staff to socialize and do activities.
Storm wears even more hats, as does Wiedbusch.
In 2007, Wiedbusch was invited to join Michigan's Search and Rescue Response Team due to his training background. Because of that, Wiedbusch's search for a K-9 partner for rescues started. Born in 2007, Storm began his K-9 and Obedience Training and Community Work/Socialization, and by early 2008 was training with Wiedbusch as a Search and Recover K-9 Team.
Things were progressing well.
Wiedbusch, a retired educator serving Ypsilanti Public Schools, at this point was active in the community as the leader of Safe Schools Program serving Ypsilanti Public Schools as well as a Red Cross Instructor, a First Responder Trainer, and was both a Unified Incident Commander and Homeland Security Instructor.
The unthinkable happened along the way: Wiedbusch began experiencing serious mobility problems in his lower limbs, and after doctors discovered the cause — an auto accident years before that broken his neck in several places had healed, but caused areas of calcification and disrupted nerve function. Surgery was too risky, and by this point, Storm had already qualified as a Search and Rescue Dog to pair with Ron.
Some decisions needed to be made. Wiedbusch was adamant about staying active in the community as much as possible despite any limitations that would arise. It was clear that the dog had what it took to add yet another certification to his "resume," Storm would serve as an Assistance Dog, accompanying Wiedbusch throughout his day.
Fast forward to present day, and upon meeting Storm, you immediately notice that he's larger than you would expect. He's a gentle giant capable of not only supporting Wiedbusch's weight to stabilize him when the need arises, but also performing tasks like nimbly picking up a dropped coin off of the floor on command — something that that is physically difficult for Wiedbusch. During my conversation in late-November with the duo, it's evident that Storm possesses exemplary skills, immense tolerance of the ever-changing environment around him and a quiet contentment.
Storm's training and certification as an Assistance Dog allows him to accompany Wiedbusch in public places during the course of his day. Storm and dogs like him can open doors, pick up and retrieve items, pull wheelchairs and more.
The 125-pound wonder comes from a long line of Service and Assistance Dogs whelped from the Chaparral K-9 Training Center.
I first heard about Storm while interviewing Executive Director of University Living Barbara Excel a few months ago. Looking at photos of past events that were displayed on the facilities' walls, I noted a large white dog in several of them and inquired. Excel noted, "Storm and Ron are an integral part of our core community here at University Living. The residents love seeing Storm and the interaction is incredibly beneficial," adding that the duo accompany residents on group outings and more.
One thing that Wiedbusch makes very clear is that Assistance Dogs are not "pets" that anyone can just take along with them as they go out and about each day.They are highly-trained canines who must pass certifications, beginning with the Canine Good Citizen program, and further — with advanced training costing upwards of $20,000.
The acceptance of Service and Assistance Dogs in the public realm has been a long fought journey, and it's one that Wiedbusch understands and takes seriously. So now, along with acting as a Therapy Dog in the local community, Storm accompanies Wiedbusch on outings, working to increase the knowledge and visibility of Assistance Dogs here in the state of Michigan, to raise awareness of the Americans with Disabilities Act and to raise funds for the training and care of the next generation of Assistance Dogs.
To learn more, visit www.assistancedogstorm.info.
Lorrie Shaw is a regular contributor to AnnArbor.com's pet section. She wrote the popular piece "Excessive barking problem? Local behaviorist/trainer offers safe, humane solutions." Reach her via email and follow her pet adventures as owner of Professional Pet Sitting on Twitter.