Posted on
Tue, May 11, 2010 : 11:01 a.m.
Meet Rosalie - AnnArbor.com's Pet of the Week
By Deb Kern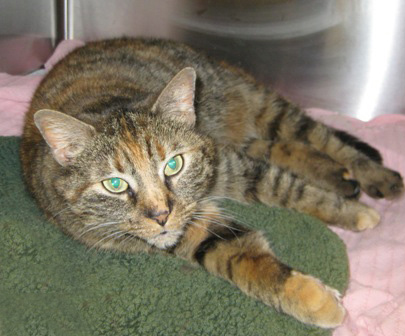 Photo by Ann Edwards of HSHV
UPDATE: Our Pets of the Week from last week, Chuck and George, were adopted. We celebrate all of our adoptions but this one was extra special. Thank you Carson, for giving the boys a caring home.
Our Pet of the Week this week in Rosalie. She is about 5 years old and was brought to the Humane Society of Huron Valley as a stray. Her fur color is a rainbow of colors, including orange, black, brown and white. We'd call her a Torbie, which means she's a tabby and tortoise-shell combination. Her large green eye are ful of mischief and her cat antics make us laugh every day!
We often let Rosalie play in the Education Center which many cats would not embrace, but Rosalie loves it. She really likes it if we leave all the dog agility equipment out so she can entertain us. Check her out!
Rosalie is a cat with confidence and she'll let you know when she'd like to be petted and played with and when she'd prefer to be left alone. Many cats are like this and people that know cat language will understand her. That is why the best home for Rosalie is someone who is an experienced cat owner.
Rosalie does enjoy attention and she will ask to be petted. She can be very affectionate and will give you a purring head butt when she's very happy. There are times when she does not want to be picked up so small children would not be a good fit. Because Rosalie is a bit particular in who she really bonds with, we know that she should not be in a home with any children younger than 12.
If you enjoy a playful cat that is not needy and likes to greet the world on her terms, than Rosalie is a perfect match for you. The staff and volunteers at the Humane Society of Huron Valley (HSHV) really enjoy her because she's so outgoing. She is not shy and not one to hide.
HSHV is open daily from noon to 6 p.m. for adoptions. To see all of our adoptable pets please visit us online.
Deb Kern is the Marketing Director for the Humane Society of Huron Valley. Deb can be reached at deb@hshv.org. The Humane Society of Huron Valley serves all of Washtenaw County, Plymouth and Canton.