Posted on
Tue, Apr 3, 2012 : 5:50 a.m.
Meet the Ann Arbor.com Adoptable Pet of the Week: Layla
By Deb Kern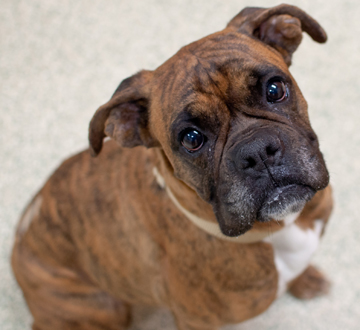 Photo by Mark Quint
This 5-year-old brindle boxer named Layla was surrendered to the Humane Society of Huron Valley by a family that had been breeding her.
Layla is a smart girl and knows many basic commands. Her transition to being in a shelter has been a bit hard on her, but her sweet personality shines through when you spend time with her. Her little tail just about wags off her body with glee if you take her for a walk or have time to play tug-of-war with her. We've come to realize that Layla does not like cats, so a feline-free home is a must for this lady.
Layla, like all of our adoptable pets, had a behavior and medical evaluation and while she passed her behavior evaluation easily, she did test positive for heartworm. Since Jan. 1, 2011 we have treated 73 dogs for heartworm. Sadly one dog's case was too advanced, but 72 other dogs were successfully treated and adopted.
Layla is expected to make a full recovery and is available for adoption now. During her treatment, which will take about six weeks, she will need to remain as inactive as possible. If you are interested in meeting Layla or would like more information, please call us at 734-662-5585.
Our veterinarians recommend that people keep their pets on heartworm preventative all year long and not just during the warm months. The preventative is relatively inexpensive but the treatment is not.
While some humane societies euthanize heartworm-positive animals, our policy is to treat them. HSHV relies solely on donations in order to provide this life-saving treatment. The average cost to treat heartworm is $500 to $800, depending the size of the dog.
All of the pets at HSHV are spayed or neutered, up to date on all vaccinations and microchipped before leaving the shelter, a cost that is included in the low adoption fee.
Please stop by HSHV between the hours of noon and 6 p.m., seven days a week, to visit our adoptable animals.
The Humane Society of Huron Valley, located in Ann Arbor, was awarded the "Best Large Animal Shelter in Michigan" by the Michigan Pet Fund Alliance, for the second time in a row this year, for saving the most lives. HSHV is an independent 501(c)(3) nonprofit organization and relies solely on donations from businesses and individuals to support our community programs.
HSHV is not affiliated with the Michigan Humane Society or any other humane organization. The mission of HSHV is to promote responsible and compassionate care of all animals in our community.
Deb Kern is the marketing director at HSHV.