Posted on
Tue, Feb 28, 2012 : 5:55 a.m.
Meet the Ann Arbor.com Adoptable Pet of the Week: Merry Merry
By Deb Kern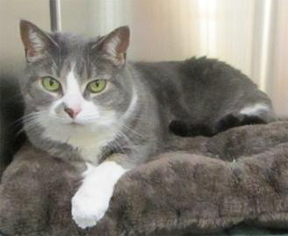 Photo by Ann Edwards
If you're looking for a cat companion that prefers one-on-one attention with her special person, Merry Merry might be the perfect pet for you.
This lovely 8-year-old, gray and white short-haired cat has been bounced around through no fault of her own. Her last home had eight other cats, and Merry Merry was not too happy trying to vie for affection.
Maybe you've heard that cats don't like change. In fact most cats need time to adjust to new situations and, for some felines, that can take a bit longer, especially when they have had no consistency.
When Merry Merry first came to the Humane Society of Huron Valley, she was sad and very nervous and we can't blame her. We gave her the time she needed to feel safe, and now we see that she is an affectionate and chatty little girl. She likes to vocalize and tell you all about her day, and she loves to be petted too. She wants to be your only pet, and, in return, she will give you unconditional love.
Right now you can adopt Merry Merry for only $20 during the HSHV "Winter Warmers" adult cat adoption special.
All of the pets at HSHV are spayed or neutered, up to date on all vaccinations and microchipped before leaving the shelter, a cost that is included in the low adoption fee. Please stop by HSHV between the hours of noon and 6 p.m., seven days a week, to visit our adoptable animals.
The Humane Society of Huron Valley, located in Ann Arbor, was awarded the "Best Large Animal Shelter in Michigan" by the Michigan Pet Fund Alliance, for the second time in a row this year, for saving the most lives. HSHV is an independent 501(c)(3) nonprofit organization and relies solely on donations from businesses and individuals to support our community programs.
HSHV is not affiliated with the Michigan Humane Society or any other humane organization. The mission of HSHV is to promote responsible and compassionate care of all animals in our community.
Deb Kern is the marketing director at HSHV.