Posted on
Wed, Mar 7, 2012 : 5:32 a.m.
Meet the Ann Arbor.com Adoptable Pet of the Week: Moe
By Deb Kern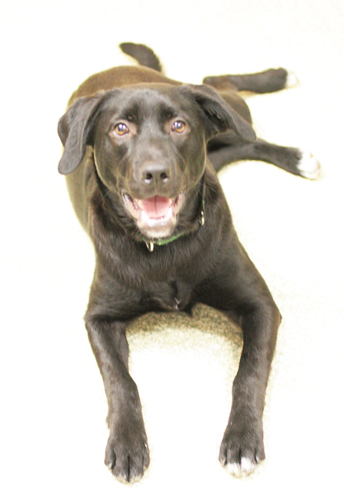 Photo by Brittany Keene
Moe is a 1-and-1/2-year-old black Labrador Retriever mix with the cutest white toes who is currently available for adoption at the Humane Society of Huron Valley. He's not only adorable but also well trained.
Moe recently returned from his 6-week training course in the MI-Paws program, where he worked one on one with a handler from the Huron Valley Women's Correctional Facility. He did great in his course work and is now able to follow commands like sit, stay, down, shake and even "sit pretty."
Moe is an easy-going dog who likes to be with people and other dogs too. He walks nicely on his leash, likes to go for car rides, and we think he'll make a great family pet. He's an active dog who will need daily exercise and playtime. Come and meet Moe today — he is ready to go home with you now!
All of the pets at HSHV are spayed or neutered, up to date on all vaccinations and microchipped before leaving the shelter, a cost that is included in the low adoption fee. Please stop by HSHV between the hours of noon and 6 p.m., seven days a week, to visit our adoptable animals.
The Humane Society of Huron Valley, located in Ann Arbor, was awarded the "Best Large Animal Shelter in Michigan" by the Michigan Pet Fund Alliance, for the second time in a row this year, for saving the most lives. HSHV is an independent 501(c)(3) nonprofit organization and relies solely on donations from businesses and individuals to support our community programs.
HSHV is not affiliated with the Michigan Humane Society or any other humane organization. The mission of HSHV is to promote responsible and compassionate care of all animals in our community.
Deb Kern is the marketing director at HSHV.