Posted on
Tue, Mar 13, 2012 : 5:57 a.m.
Meet the Ann Arbor.com Adoptable Pet of the Week: Natalie
By Deb Kern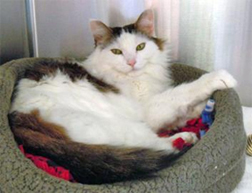 Natalie was found as a stray back in June of 2010. Amazingly enough, she is still waiting for her forever home.
The Humane Society of Huron Valley has no time limits for healthy and treatable animals. Natalie stayed in the shelter for a number of months but when she became frustrated in her cage, she was moved to an HSHV foster home. She has been happily residing there for over a year. It is our sincere hope that someone will read her story and watch her video and finally give this beautiful cat her own permanent home.
Listen to what Natalie's foster mom says about this lovely 4-year-old kitty:
Natalie is a very sweet and cuddly cat. She sleeps under the blankets with me or my oldest daughter. She is very friendly with visitors and usually runs to the door when she hears the door bell. She's not too crazy about small kids that might try to pick her up or not know how to pet her the way she likes so she should be in a home where any kids are at least 10 years of age. She loves to chase around string toys and is happiest when the house is quiet. It has taken many months for her to be able to be in the same room with my cat. She still keeps her distance, so she would do best in a home where she is the only cat or in a home with someone willing and able to let her have a calm and slow introduction with another feline.
As you can see, Natalie is playful and fun to be around. She has soft, medium to long fur and enjoys a home where she can stretch out and entertain her guests! What a cool cat companion she could be for the right family. To visit Natalie, call 734-661-3520, and we will arrange for you to meet her. She can't wait to see you.
All of the pets at HSHV are spayed or neutered, up to date on all vaccinations and microchipped before leaving the shelter, a cost that is included in the low adoption fee. Please stop by HSHV between the hours of noon and 6 p.m., seven days a week, to visit our adoptable animals.
The Humane Society of Huron Valley, located in Ann Arbor, was awarded the "Best Large Animal Shelter in Michigan" by the Michigan Pet Fund Alliance, for the second time in a row this year, for saving the most lives. HSHV is an independent 501(c)(3) nonprofit organization and relies solely on donations from businesses and individuals to support our community programs.
HSHV is not affiliated with the Michigan Humane Society or any other humane organization. The mission of HSHV is to promote responsible and compassionate care of all animals in our community.
Deb Kern is the marketing director at HSHV.