Posted on
Wed, Jan 11, 2012 : 5:49 a.m.
Meet the Ann Arbor.com Adoptable Pet of the Week: Trixie
By Deb Kern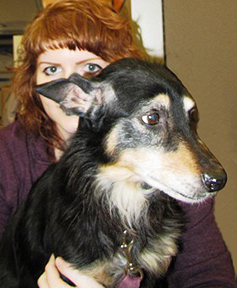 Photo by Ann Edwards
Trixie was found all alone on Christmas Eve and spent the holidays at the Humane Society of Huron Valley. We hoped that her family would come for her but when that did not happen, we decided that this sweet girl would love to be in a warm and caring HSHV foster home.
Her foster mom reports that: "Trixie is the best foster dog I have ever had. She is house-trained, affectionate and gets along well with my other dogs and our cats. She will make someone a very loving companion."
Trixie, a Border Collie mix, is about 10 years old but you'd never know it. This sweet, petite girl has lots of energy and spunk! Trixie may be a little timid at first but she warms up quickly, then just wants to play and be around you. She gets along well with other dogs and has no problem with cats either. Her favorite thing to do is sit in your lap and give you kisses.
Older dogs make great pets.
They have learned what is expected of them and have had training.
Also, by adopting an older dog, you can make a statement about compassion and the value of all life at all ages, as well as register a protest against the indiscriminate and inhumane breeding of dogs which leads to millions of animals ending up in shelters. And, of course, just as a puppy has his whole life ahead of him, so does an older dog have the rest of his life in front of him.
You can give that senior dog the best years of his life while at the same time bringing a wonderful addition into your family. The ASPCA lists ten reasons why you should considered adopting a senior pet.
All of the dogs at HSHV have been medically evaluated and given behavior assessments before they are deemed available for adoption. All of the pets at HSHV are spayed or neutered, up to date on all vaccinations and microchipped before leaving the shelter, a cost that is included in the low adoption fee. Please stop by HSHV between the hours of noon and 6 p.m., seven days a week to visit our adoptable animals.
The Humane Society of Huron Valley, located in Ann Arbor, was awarded the "Best Large Animal Shelter in Michigan" by the Michigan Pet Fund Alliance, for the second time in a row this year, for saving the most lives. HSHV is an independent 501(c)(3) nonprofit organization and relies solely on donations from businesses and individuals to support our community programs.
HSHV is NOT affiliated with the Michigan Humane Society or any other humane organization. The mission of HSHV is to promote responsible and compassionate care of all animals in our community.
Deb Kern is the marketing director at HSHV.