Posted on
Tue, Jan 31, 2012 : 11:58 a.m.
Michigan receives favorable marks in animal welfare rankings
By Lorrie Shaw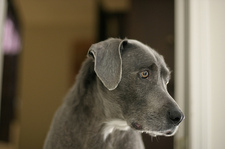 flickr photo by ishane
Two organizations recently released their separate rankings for each state when it comes to their animal protection laws and the good news is, in several states, things are improving.
Even better, Michigan is one of those states because of their implementation of better cruelty laws.
One of the organizations, the Animal Legal Defense Fund focuses on companion animal abuse.
Over the past five years, the state of Michigan has reinforced their existing felony animal cruelty laws, as well as adding felonies for repeated or aggravated animal neglect. Repeated abandonment, or abandonment that results in the death or serious injury of an animal, was also classified as a felony.
"These annual reports identify what each state and territory is doing with respect to their animal protection laws," says Stephan Otto, author of the report and ALDF's director of legislative affairs.
"Since ALDF began publishing these rankings in 2006, there has been a marked advance in the laws of many states and territories."
The Humane Society of the United States findings incorporate a wide range of areas including legislation pertaining to science research protocols, the keeping exotic pets and the treatment of farm animals.
Because of this, their rankings differ.
California, New Jersey, Oregon, Illinois, Massachusetts rank at the top of their list.
Michigan did get favorable marks for its stance on animal fighting — getting caught can result in a felony if convicted — and for laws on protecting factory farm animals.
In October 2009, Farm Sanctuary, along with HSUS and the Michigan Humane Society, lauded legislation that was passed in the state of Michigan by way of HB 5127 signed by former Gov. Jennifer Granholm. The bill phases out the use of gestation crates, battery cages and veal crates.
Want to check out animal welfare laws that are on the books? Check out the Michigan State University College of Law's website dedicated solely to documenting legislation from across the country.
Lorrie Shaw is lead pets blogger for AnnArbor.com. You can follow her daily pet adventures as owner of Professional Pet Sitting on Twitter and subscribe to AnnArbor.com's email newsletters.