Posted on
Mon, Feb 21, 2011 : 4:16 p.m.
Michigan woman on a mission to change state canine tethering law
By Lorrie Shaw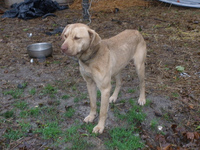 flickr photo courtesy of tobyotter
Despite the fact that the general climate of dog ownership has evolved over the last 20 years or so, there are areas where many feel that the treatment of animals still needs to be improved. There is one specific practice that is a sticking point for one woman from Michigan —
canine tethering
.
We've all seen it: Dogs secured by a chain or other tether to a stationary object, alone.
For some animals, it's a way of life; little or no contact with other animals, or humans for that matter, for years. In some instances the canines are neglected, and chains or collars are embedded in their necks. Animals frequently get entangled in the tether and are unable to access water, food — or even shelter.
Dogs are not meant to live a solitary existence, and since by nature they are very social creatures, it's no wonder that these scenarios have been shown to be psychologically damaging to dogs, causing anxiety, aggression and other behavioral issues. Lack of socialization and proper training exacerbates this.
Annie Carlson, a substitute teacher from Swartz Creek, knows that there is a simple solution to avoiding these problems and creating an environment where all companion animals have an opportunity to flourish. She wants to see the canine tethering laws changed in the state of Michigan and is petitioning to do so.
The current state law indicates that a person in possession of an animal is to provide adequate care, and the tethering law is clarified:
An owner, possessor, or person having the charge or custody of an animal shall not tether a dog unless the tether is at least 3 times the length of the dog as measured from the tip of its nose to the base of its tail and is attached to a harness or nonchoke collar designed for tethering.
Starting at the grassroots level, Carlson has more than 2,000 signatures in total on a petition, and is still pressing on to change Michigan law regarding 24-hour tethering of dogs. Carlson is meeting in Lansing on Tuesday with State Representative Paul Scott, House District 51. The bill language has been established, and she is hopeful that he will sponsor the bill.
Carlson clarifies that there is a distinct difference between a dog being put out on a tether for a short period of time to perform a specific task — and a dog being chained to a doghouse or a tree for life. The latter is a problem for her, other individuals and organizations — including the Huron Valley Humane Society.
In fact, Tanya Hilgendorf, Executive Director of the Humane Society of Huron Valley notes that most of these dogs are neglected. And when they are neglected, she adds, "So many times people don't even notice that there dogs are too skinny, may be sick or are just not getting enough calories and nutrition, especially to survive outside."
Hilgendorf adds that the Humane Society has Five Freedoms for animals and doesn't believe that tethering is in line with any of them. They are:
1. Freedom from Hunger and Thirst — by ready access to fresh water and a diet to maintain full health and vigor.

2. Freedom from Discomfort — by providing an appropriate environment including shelter and a comfortable resting area.

3. Freedom from Pain, Injury or Disease — by prevention or rapid diagnosis and treatment.

4. Freedom to Express Normal Behavior — by providing sufficient space, proper facilities and company.

5. Freedom from Fear and Distress — by ensuring conditions and treatment which avoid mental suffering.
While some dog owners deem the practice acceptable, others note that they often say they can't afford hay or a proper dog house.
The Humane Society's answer: If you can't afford a dog house, you probably shouldn't have a dog. And if that's that case, you probably aren't able to afford the rest of the care necessary a dog needs to live a halfway decent life.
Carlson's efforts started in January of last year after seeing a dog chained day in, day out, and not cared for. After contacting local law enforcement to come out and investigate, Carlson said, "Their response was, 'There's nothing that we can do. The owner is within their legal limits.' It was so disturbing."
As it turns out, there were several calls about this particular dog. She was dumbfounded and knew that if the law allowed for that, then it needed to be changed.
Carlson — and the Humane Society — would like to see any new Michigan legislation mirror the California law. They also hope it will include one very important clause addressing the adversely harsh weather that we experience here in Michigan and that tethered dogs are frequently forced to endure.
A resident of New Richmond, Ohio succeeded in changing the tethering laws there. Texas, as well as a grassroots effort in Nevada have either modified the tethering law or made it unlawful.
Carlson is happy with the present outcomes in other states and thinks that Michigan should be next, as does the Humane Society.
Anyone who wants to report improper tethering in Washtenaw County according to Michigan law can contact the Humane Society of Huron Valley's Animal Cruelty Investigation Dept. at 734-661-3512.
A grassroots meeting at the Michigan Union, 530 S. State St. in Ann Arbor will take place Monday, Feb. 21 to discuss canine tethering and other current issues affecting animals in Michigan.
What's on your mind with regard to this issue? Participate in the poll and leave your comments.

Lorrie Shaw is lead pets blogger on AnnArbor.com and wrote "How does our perception of an animal's intelligence influence their treatment?" Contact her by e-mail and follow her pet adventures on Twitter as a professional dog walker and pet sitter in the Ann Arbor area.