Posted on
Wed, Apr 28, 2010 : 11:45 a.m.
No, not everyone loves my dogs as I do
By Lorrie Shaw
In today's culture, pets are so much a part of everything. We pet owners have learned to co-exist so seamlessly (or so it seems) with dogs and cats, mainly, and for the most part, we've friends and family who are pet lovers, too.

Especially dogs! The runs that I routinely make to care for various pets illustrates this clearly. There are always a few tongue wagging, furry faces peering out of the windows of passing vehicles. The dried nose-print smears on the rear windows of some vehicles is a sure sign to anyone who sees them that the owner has a dog or two in the family - mine included. I'm a dog person, through and through. I couldn't imagine not having a one in the family. Indeed, the very culture of pet ownership has changed significantly in the past few decades, especially when it comes to dogs. It's permeated our lives, the economy. I think a fair estimation from what I've read is that we in the U.S. spend roughly 40 million per year on our pets.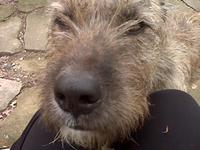 Lorrie Shaw / Contributor
But, guess what? Not every individual likes dogs. Different strokes, for different folks. There are obviously varying reasons for their position. Many were raised in a way where pets are strictly outdoor animals. Others, well, they may have had a bad experience with a dog. Some even find
cats
creepy. A few are just not pet people: no reason needed. Whatever the reason, I respect them. After all, there are people who know me, and don't get me and my love of all kinds of
animals
. Despite the idea that pets are interwoven in our personal lives so much, I think it's up to me as an animal owner to set the boundaries, respecting the position of a non-owner - and not blurring the line of human life and my pets' life.
Obviously, folks that come to our home know what I do for a living and that our pets are as much a part of day to day life as anything. Granted, both Bruiser and Gretchen are trained, well-mannered and are very likeable - but they are still dogs. Big dogs. Not everyone finds their typical dog behavior endearing. The crotch sniffing, the drooling, the fur shedding, the butt licking, the muddy paws - all the things a pet owner gets used to really turn off some people. And the funny way that they like to steal the football away from the kids when they're trying to play is funny to us, but to our guests' kids (who have no pets), it's far from comical. Some of our guests may not get our way of life - but they expect it.
However, when we're not at home, I'm very aware of one thing. Not everyone loves my pets like I do. And they never will.
Dogs don't belong in some places and situations, period. Case in point: In summer, when it's 85 degrees and we want to attend a festival or fair, we leave them home. It's a horrible environment for a pet; it's typically crowded, hot and nothing to do - and it can be stressful for them. What would make me think either of the dogs would want to be there? What gives me the idea that other people would enjoy sharing their leisure time with the dogs in a public setting? Pets are not humans. I accept that our ways of interpreting the world vastly differ. It's difficult to not anthropomorphize pets, but in their own best interest, I can't expect them to live completely immersed in my human world, to include them in every aspect of my life. It's unfair and goes against their nature. Hopefully keeping that in mind will allow me, my dogs and others to co-exist happily in this very connected society.
Lorrie Shaw resides in Dexter Township with her family that includes three pets and is owner of Professional Pet Sitting. She welcomes your contact by e-mail.