Posted on
Fri, May 4, 2012 : 10:05 p.m.
Recall of pet food expands to several brands including Taste of the Wild
By Lorrie Shaw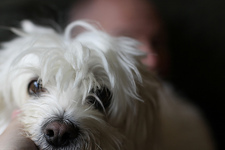 flickr photo by waferboard
Information regarding additional dog food brands has been updated.
The wake of Diamond Pet Foods' troubles is increasing by the week, it seems, because of Salmonella contamination, and today brought the inclusion of more brands in yet another voluntary recall.
The company, in a statement on their website, noted the following to consumers:
Although none of the products being recalled have tested positive for Salmonella, the company is pulling them from store shelves as a precaution. Diamond Pet Foods is coordinating efforts with federal and state health and regulatory agencies but decided to independently expand the recall to ensure the safety and well-being of customers and their pets.
A total of 16 states, including Michigan are part of a wide-reaching recall that has to date, according to the company, not sickened any pets.
In early April, there were three separate recalls issued for specific brands of dog food made by Diamond that did test positive for the bacteria.
The current voluntary recall has been so vast, that the company has had to create a separate website in an attempt to answer consumer questions and clarify the brands and products in question.
Previously, production and delivery of product from their Gaston, S.C. plant had been suspended. It has since resumed.
The company has indicated that the following brands are under scrutiny with regard to possible Salmonella contamination:



Chicken Soup for the Pet Lover's Soul


Country Value


Diamond


Diamond Naturals


Premium Edge


Professional


4Health


Taste of the Wild


Kirkland


Apex





Canidae, which is also manufactured at the facility has also issued their own voluntary recall on some formulas of dog food that include specific production codes:
CANIDAE Dog Dry Dog Food, All Life Stages
CANIDAE Dog Dry Dog Food, Chicken Meal & Rice
CANIDAE Dog Dry Dog Food, Lamb Meal & Rice
CANIDAE Dog Dry Dog Food, CANIDAE Platinum
Salmonella, also referred to as salmonellosis, causes digestive problems, and dogs will typically present with fever, diarrhea, vomiting and weakness. Other symptoms can occur.
Salmonella is a zoonotic disease, meaning that it can be passed to humans as well, so care needs to be taken. Hand washing is a must — even when handling dry pet food that may be contaminated with the bacteria.
Because there are more than 2,000 strains of Salmonella, it's the most common cause behind pet product recalls. Very young and very old pets are most susceptible to the bacteria and suffer the effects most profoundly. The most common symptoms associated with Salmonella are vomiting, diarrhea and fever. Companion animals presenting with symptoms are treated with IV fluids and antibiotics.
That being said, Salmonella can affect other animals — not just the dogs who consume the food. There is risk to humans from handling contaminated pet products. People handling dry pet food and/or treats can become infected with Salmonella, especially if they have not thoroughly washed their hands after having contact with the kibble or any surfaces exposed to any contaminated product.
The Wall Street Journal reported via the Associated Press that 14 people have been sickened by the bacteria in recent weeks.
"People who became ill, the thing that was common among them was that they had fed their pets Diamond Pet Foods," said CDC spokeswoman Lola Russell.
If you feed your pet one the the listed brands, you can easily tell if the bag in your possession is affected. Here's how: The affected products contain a "2" or "3" in the ninth or 10th position AND an "X" in the 11th position. The best-before dates for the recalled brands listed above are December 9, 2012 through April 7, 2013.
Diamond states that only four bags of food have tested positive for Salmonella out of nearly 6 million bags produced during the recall time period and that a thorough internal investigation was conducted of all systems and processes at their production plant and have taken corrective action.
For contact information and specific answers to your questions regarding this issue, go to diamondpetrecall.com
You can count on AnnArbor.com to have up-to-date information on pet product related recalls available. Search our archives of previous recalls here.
Lorrie Shaw is lead pets blogger for AnnArbor.com and owner of Professional Pet Sitting. Shoot her an email, contact her at 734-904-7279 or follow her adventures on Twitter.