Posted on
Fri, Apr 30, 2010 : 11:39 a.m.
Pet loss support group starting at the Humane Society of Huron Valley
By Deb Kern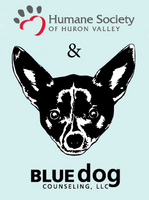 Many people experience great heartache when a beloved pet passes away. In fact, hundreds of visitors to the Humane Society of Huron Valley (HSHV) tell us that they simply are not ready to bring another pet home because they are still grieving. HSHV is proud to be able to offer assistance for people in mourning.
Our collaboration with Blue Dog Counseling will offer a free monthly support group for people who have experienced or are about to experience the loss of a pet. Our companion animals are very important to our lives. The death of a beloved animal can be emotionally traumatic, but our culture lacks proper outlets for those feelings. People without pets tend to have a 'Get over it. It's just a cat kind of attitude.' But we at HSHV understand the strong bond between people and their animals. A pet loss support group acknowledges and can help heal the pain people experience during this difficult time. We are delighted we can bring this service to our community.
Colleen O'Brien, LMSW, the founder of Blue Dog Counseling who has over fourteen years of experience, will be leading the support group sessions at HSHV. Ms. O'Brien is clinically trained in providing therapy and support to pet owners, animal lovers, and animal care providers around the complex issues of trauma, grief, and loss. Her personal commitment to animal welfare, her own experience as a devoted pet owner, and a passion for supporting people led her to create Blue Dog Counseling. Colleen is dedicated to providing a safe, open, and creative space for discussion.
The Pet Loss Support Group will meet the third Sunday of every month at the Humane Society of Huron Valley from 1 to 2 pm. The group is offered as a drop in service and is free to the public. Donations are welcome and will benefit the homeless pets at HSHV.
Scheduled Dates: May 16 June 20 (NO MEETING IN JULY) August 15 September 19
In order for us to plan for an appropriate meeting space, it would help if you RSVP for this group. Please serve a space here.
The Humane Society of Huron Valley (HSHV) is an independent 501(c)(3) non-profit organization serving all of Washtenaw County, Canton, and Plymouth, and relies solely on donations from businesses and individuals to support our community programs. The mission of HSHV is to promote responsible and compassionate care of all animals in our community. For more information, call (734) 662-5585 or visit www.hshv.org.