Posted on
Wed, Jan 11, 2012 : 5:40 a.m.
Submit photos of your senior pets for this week's Pet Photo Friday
By Lorrie Shaw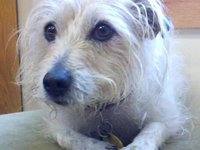 Lorrie Shaw | Contributor
There's something comforting about a pet who has some years behind him or her.
Sure, there is an exciting newness to having a young puppy or kitten in the house. There are so many aspects of that time of life that draw us in: the smell, seeing the world from their eyes, watching them unfold over weeks and months and into those first couple of years. Building a relationship with a pet is a unique experience.
But, for some of us, older pets are even more fun!
For 13 years, we've had the good fortune of being in the company of three great pets, (two dogs and a cat) ages 13, 12 and 10, and, quite honestly, we have more of an appreciation for this time of their lives than any other.
They have a quiet knowing about things. They've slowed down a bit from their early days, but their interest in all things fun hasn't diminished. They will play readily but lack the hyper attribute of the younger members of their respective species.
Puzzle toys still fascinate, and their habit of making up games and adoration of tennis balls, rubber bands and games of hide and seek still amaze us. They're great travelers, lovers of kids and moochers of treats. Always great listeners, they can walk on a leash with a comfortable precision.
They understand the commands that we taught them long ago, so much so that we don't even need to say anything many times; the mechanics of the little routines that we have in the house are all too familiar to them — they know what will very likely happen next. If not, a glance and a kind word in their direction many times will suffice.
Their fond memories of things and activities even from long ago, (like chasing around a remote-control car or going to a swimming hole that they've not seen in awhile) reminds us to soak up life and take the time for fun.
They have the hang of things as far as what is expected of them, including housebreaking, staying off of the furniture, not chewing up things that they shouldn't — all of that good stuff that everyone with pooches who are a few years behind are still working at.
So, those of you with younger pets who think you've got it made — the best years with your companions ahead of you. It only gets better, and, despite the fact that you think you've taught them so much, you're going to find that they will teach you far more than you could ever know: humility, grace, patience, joy, living in the moment.
In "Good Old Dog," Nicholas Dodman, DVM discusses the best ways to keep your furry family members healthy well into their senior years. It's a great book to have on hand.
So, to pay homage to pets who've been around the block a few times, this week we invite you to submit photographs of your older four-legged family members by emailing them to ppsa2mi@gmail.com, at any time of the week, and be sure to give a little anecdote about what's best about them. Your photos will be included as part of a very special edition of our ongoing Pet Photo Friday feature.
Please include the animal's name, age, and city or township of residence in your email. Be sure that your photos are 1200 pixels wide and in .jpg format.
We'll put the week's photos into a slideshow, publish and promote on Friday here in the Pets section.
Lorrie Shaw is lead pets blogger for AnnArbor.com. Connect with her on Google+ or e-mail her directly.