Posted on
Thu, Jan 12, 2012 : 11 a.m.
Dogs can seem to be the root of a relationship problem, but in some cases they're a magnifying glass
By Lorrie Shaw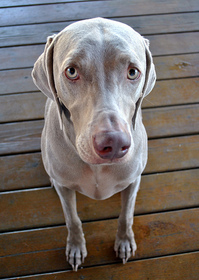 flickr photo by saratogajean
Getting a dog is one of the most common endeavors that a couple decides to undertake when they meld their lives together. In many ways, it introduces a whole new side to the relationship. It's not without its challenges, needless to say, and the experience in most respects can reinforce the union.
The challenges — or what some view as challenges — of dog ownership can, for some couples, cause rifts on a regular basis.
A British study had some findings that really piqued my interest.
According to the study, during a dog's average lifetime — one that spans 12.8 years — a couple will have an average of roughly three arguments related to pet ownership per week.
So, Fido would then be the root of 2,000 disputes. It seems so unfair, yet not really that surprising.
Let's face it: living with another species can prove to be a challenge in itself.
Trying to get two humans to agree on something like how a dog should be cared for or training (15 percent of the couples in the study noted that this a problem) is generally enough for two people to deal with.
If you add in a bone of contention like who should be handling walking responsibilities, if the pooch should be allowed to sleep in the bed and how to handle pet care when traveling — which was one a problem high on the list for most couples — the rifts can widen.
These impasses are especially true when a dog is exhibiting behavior problems.
17 percent of the couples indicated that one of the pair had slept in a spare room after an argument relating to their pooch.
That got me thinking about a lot: chiefly about the idea of how much we need to get to know our significant others — and ourselves — before getting a dog.
There needs to be a lot of dialog about just how much life will be impacted by the inclusion of a canine. They're wonderful companions, but they're a different species, for Pete's sake.
Dogs do things that stir us into worrisome fits, and needlessly so for the most part.
The problems associated with our relationship with dogs are usually induced by our need to possess, control, cling, mold like clay; our unwillingness to establish boundaries, to be consistent in our behavior, accepting and most of all, patient.
Ironically, many of the habits we get into are why human relationships begin to fracture.
Sometimes, despite the fact that our relationship might be healthy, we have the misfortune of experiencing the chilly effects of a relationship that a new-to-us dog was in the middle of. (Our household has firsthand experience with this, and let me tell you, it's awful seeing an otherwise happy-go-lucky pooch cower in fear at the sight of you picking up a broom, shovel or rake.)
In any case, for the betterment of our relationships, it might serve us better if we're reasonable in not only in the acceptance of limitations (even our own), but our expectations of the ones that we choose, human and canine alike.
Lorrie Shaw is lead pets blogger for AnnArbor.com. You can follow her daily pet adventures as owner of Professional Pet Sitting on Twitter and subscribe to AnnArbor.com's email newsletters.