Posted on
Sun, Mar 4, 2012 : 2 p.m.
Changing attitudes about pet ownership influence trend in naming of cats and dogs
By Lorrie Shaw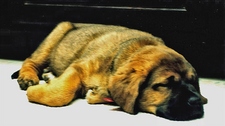 Lorrie Shaw | Contributor
When I first saw Gretchen, what struck me about the 5-and-a-half-week-old furball was her unabashed playful nature — and her striking features. She was no doubt part German Shepherd (the most common of prevailing breeds in mixed breed dogs currently), and of course Saint Bernard, along with a bit of Labrador somewhere in her bloodline.
I couldn't decide on a name immediately and didn't want to.
I wanted to wait a few days and see how her personality unfolded. One's name should fit who you are.
Trying to stay true to her breed's origins, tops on my list were Greta, Liesel and Ingrid. But the name 'Gretchen' seemed to suit her well and still does. (Although I have countless nicknames for her, as I do all of our pets.)
It just never occurred to me to name my new pup with a traditional 'dog' name, like 'Shadow' or 'Goldie', although I don't think that it would have been out of the question.
The trend for many years was to name pets with monikers that aren't associated as being human, necessarily, like 'Spot' or 'Fluffy'; in fact the name of a dog or cat had a tendency to be lent from a physical characteristic. Our Silver was named aptly because of his coloration, and Bruiser was named before he came in our lives. (His name is not indicative of his personality, by the way.)
Favorite pastimes have proven to be inspiring, and some choose favorite vacation spots that remind them of happy times in their life when choosing a name.
A canine client who has since passed — a chocolate Labrador who had a certain joie de vive — was called Java. And I once knew a dog named Poo.
In the past, people have had fun with their pet's names, deriving them from a favorite TV or movie character or even their favorite alcoholic beverage.
The tide is turning now, and in large part, names for pets are leaning toward being more like those of humans. When you think about it, it's not all that surprising: attitudes about sharing life with pets are becoming more inclusive and mindful, and they are more like members of the family rather than simply being just animals.
Names that are short and cute but somewhat old-fashioned are popular.
"Parents are giving pets the more extreme versions of their kids' names," says Laura Wattenberg, author of The Baby Name Wizard.
"While they're happy to name their children Leo and Max, they aren't quite ready for Lulu or Milo for their kids."
Here are some of the trendiest pet names right now — is your pet's name on the list?
Female: Lola, Stella, Luna, Izzy, Lulu, Ellie, Piper, Mia, Zoey and Penny.
Male: Bentley, Cooper, Diesel, Louie, Teddy, Marley, Henry, Tucker, Dexter and Ziggy.
Click here to read more from an article on Vetstreet.
How did you choose your pet's name?
Lorrie Shaw leads the pets section for AnnArbor.com. Catch her daily dog walking and pet sitting adventures or email her directly.