Posted on
Thu, Feb 23, 2012 : 5:51 a.m.
A change in United Airlines' pet policy leaves military families upset
By Lorrie Shaw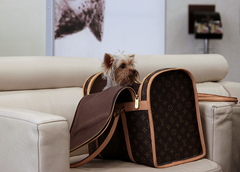 flickr photo by lrumiha
An update on this story that was made late yesterday after it was discovered that United Airlines decided to overturn their original decision to increase fees charged to transport pets. This, after outrage was expressed on their Facebook page and a vigorous online petition campaign disputing the policy. Click here to read more from the website Stars and Stripes.
Military personnel are just like anyone else; they have families and in many cases, they have pets. When they are stationed overseas, their families go with them: spouses, children and pets, like dogs and cats.
The military contracts with United Airlines to provide transportation for military members serving in the Pacific at a reduced rate, although the cost for transporting pets is the pet owner's responsibility.
Not a bad deal, right?
However, a new policy set by United will go into effect on March 3 and is causing quite a stir among military families.
They are increasing the cost of transporting a pet overseas by hundreds of dollars.
Here's the glitch — the airline currently classifies pets as excess baggage — which typically costs no more than $500. Now, pets will be classified as cargo, which could put the cost much higher — into the thousands. Here's the reason for the change: United is merging with Continental Airlines. (Continental currently contracts with the military to provide this service as well.)
Currently, a small animal can fly back home to the United States from Japan for about $283. That could jump to $1,400 or more, depending on the size of the animal.
"Our PetSafe program is industry-leading because of the high standards we set for flying pets," said Mary Ryan, United spokeswoman.
"Due to Japanese law, anyone shipping their pets from Japan pays our PetSafe rate and a third party forwarder at market rates. We realize this impacts military families and are evaluating our pricing from Okinawa."
Click here to read the original article from Stars and Stripes.
Lorrie Shaw leads the pets section for AnnArbor.com. Catch her daily dog walking and pet sitting adventures or email her directly.