Posted on
Thu, Mar 8, 2012 : 5:19 a.m.
Good hand washing habits are a must when caring for dying pets to keep humans and animals safe
By Lorrie Shaw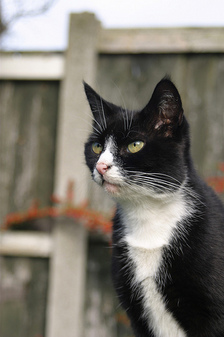 flickr photo by Josh Semans
You've seen the topics dealing with aging pets addressed several times here on the pets section, and for good reason: pets are living longer, healthier and our attitudes toward how we view pets has changed dramatically in recent years.
We know a lot more about how pets think — and how we interact with them.
With more research in the veterinary community and with mindfulness on all fronts, we understand that pets, like dogs and cats, do in fact feel pain in the same ways that we humans do, and how to manage it, whether we're talking about post-surgical pain, arthritis and even addressing pain associated with terminal disease, like bone cancer.
Further, we have a better grasp on how we can help pets who are approaching end-of-life. Many people automatically think, "Let's just have Fido or Fluffy 'put down'," when things get a little dicey and they're getting old. The truth is, for some pets, it's the best option, but for a vast number of animals, they just need time and the proper environment to transition on their own.
Palliative and hospice (pawspice) care is a growing field in and around veterinary circles and is a viable option that many families are exploring when their pets are reaching their final transition.
In a poignant account published several months ago on my blog, two area families shared their experiences with pawspice and euthanasia carried out at home, where they and their pets were most comfortable. That story spurred even more topics that offered great discussions that surround the issue — like how to know if a pet is in pain and dealing with the grief from the loss of a pet.
One recent topic that has been written about on several websites, has shed a different light on the issue of palliative care for pets: the potential health dangers of cuddling a dying pet.
The issue has come to light after the latest issue of Clinical Infectious Diseases was published.
Dr. Joseph Myers, the author of a study included in the journal and chairman of the department of medicine at Summa Akron City Hospital in Akron, Ohio focuses on three cases of pet owners who contracted the deadly bacteria while providing palliative care for their dying pets.
The bacteria at the center of the problem, Pasteurella multocida, is believed to be present in the mouths of about 60 percent of dogs and 80 percent of cats.
Three women — all in their 50s and otherwise healthy — reported fever, chills, sore throats and difficulty breathing. In all three cases, the bacteria attacked the women's respiratory tracts.
So, how did these pet owners become sick? Two women constantly held and kissed their cats during the felines' final days of life, while the other woman reported that she shared a dropper of honey with her ailing dog.
In the latter case, an obvious problem stares us in the face: sharing utensils with a pet. It's never recommended.
That being said, petting, cuddling and being close to a dying pet doesn't pose a threat.
The deadly bacterium is what's dangerous, and it's typically transmitted through a pet's scratches, bites and other unwelcome behavior. In one of the former cases, it was contracted through close contact — according to the study, "…by holding, hugging and kissing the head of the cat and allowing the cat to lick her hands and arms."
While that in itself isn't a problem, lack of mindful hygiene is.
"When you start licking your cat or dog or you start sharing utensils with your dog, you put yourself at risk for those things," notes Anthony J. Smith, a veterinarian who runs Rainbow Bridge Vet Services in Hercules, Calif. and co-founded International Association of Animal Hospice and Palliative Care.
"Those probably weren't the best ideas from a human health perspective."
So, should you avoid the much-need physical contact and comfort during pawspice care? Of course not!
However, it is important to keep in mind that in anytime that you're caring for a pet who is in end-of-life, that good hand washing (don't forget your arms!) is vital. It will protect you and your pets.
Remember, at that stage of their life, pets are susceptible to getting sick from what you bring to them, just the same.
Read more from the MSNBC article by clicking here.
Lorrie Shaw leads the pets section for AnnArbor.com. Catch her daily dog walking and pet sitting adventures or email her directly.