Posted on
Sat, May 22, 2010 : 2:45 p.m.
The 'bucket list' for pets: What does your dog want to do before he dies?
By Lorrie Shaw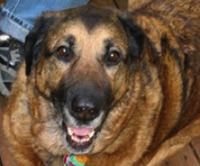 Let's face it: We pet owners are very attached to our animals and in most instances, we know that we are going to outlive them.
As both of our dogs are approaching their "senior years," it's hard to think about them not being with us, but invariably, I do - a lot. Gretchen is a very healthy 10 and Bruiser isn't far behind her.
It's not like they are going to go soon, but hearing strangers, and sometimes friends and family remark about their age causes me to give pause. "Oh, look at that chin, it's getting more and more gray..." or "She'll live how long... 12 years, maybe?"
Admittedly, pondering the idea that time seems to be escaping us more quickly than I'm comfortable with makes me think about how rich my pets' lives are. Do they have enough of what they need? Is enough being done to make them happy? Animals really don't need much to be content. What they do thrive on is spontaneity; seizing the moment. I was doing some leisure reading the other day and found an article on The Bark. It got me thinking... everyone should have a bucket list, no matter what age we're at. Animals included. The list need not be lofty, only what makes us happy. Ditto for pets.
We try to make life fun and spontaneous for all of our pets. We make popcorn (the dogs' favorite) frequently and toss pieces to them - as much as they want. We'll set up the tent, and camp out in the back yard in the summer sometimes. There are plenty of campfires on summer nights.
I don't mind if during the middle of the day when none of our neighbors are around that Bruiser barks at squirrels that taunt him in the trees. Ditto for Gretchen, but her penchant is playing basketball. They need to blow off some steam, now and then.
Trips to the pet store: now that's fun - and letting Bruiser stick his head out of the car window on the way there. (Gretchen doesn't care for it.) Oh, and doggy ice cream cones from fast food restaurants. Popsicles. Filling up the kiddie pool and letting them run in and out of it in the summer. Digging holes to lay in under the deck. Running through mud puddles - and sprinklers... the latter is hysterical to watch.
Hiding tennis balls in piles of fallen leaves in the autumn and hunting them out. Going on sledding outings on overcast winter afternoons. All of these things from experience I know make them happy, and maybe they could be considered items to partake in on their bucket list, I'm not sure. They certainly look like they are having the time of their lives while doing them, though. And because of that, I get to live vicariously.
I got to thinking about something else, too: wouldn't it be great to adopt an older pet from a rescue or otherwise and give them the opportunity to pursue their own "bucket list"?
I remember years ago, a friend had a black labrador who, at this point in time was about 13 and really having difficulty getting around. After her daughters' birthday party, we were cleaning up decorations and balloons. A few of the balloons sunk to floor level, and the spry fella, gray around the muzzle and arthritic, began chasing the balloons around like a pup, trying to bite them. When he was successful, he would bark like crazy. What fun! Evidently, he used to do it as a youngster and loved it. It was great to see him get such joy out of doing it again.
I get the opportunity to spend much of my time in the company of animals. For the past week, there's been a puppy who has been holding my attention and it caused me to think harder about not just the needs of the young, but also senior pets. Although that hourglass seems to run faster as it nears the end for all of us, it really doesn't - it's just our perception. I can only conclude that it's never too early to think about fulfilling that bucket list.
Lorrie Shaw is a pet blogger, a regular contributor to AnnArbor.com and owner of Professional Pet Sitting, and has extensive experience with animals including dogs, cats, exotic birds. Contact her via e-mail.