Posted on
Tue, Dec 21, 2010 : 10:30 a.m.
The expert's top picks for pet toys, perfect for holiday gift giving
By Lorrie Shaw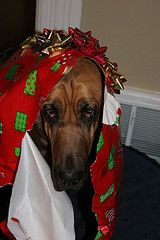 flickr photo courtesy of SuperFantastic
Each day, I see a lot of pet toys get used, abused, enjoyed — and sadly, some are ignored. In compiling this list, I did one simple thing: I paid attention to what pets used, how and for how long. One thing is clear. All pets are different: the way that they play, what gets and keeps their attention and how long the toy lasts varies.
I have the unique vantage point of not only having three pets of my own, but seeing what my charges are into as well. With so many variables as far as size, preference and physical ability that I've observed, there is a lot of variety for your consideration:
For dogs:
The Kygen Hide-a-Squirrel plush puzzle toy
Our Gretchen's favorite, this fun, durable toy comes with three stuffed squirrel toys that squeak.
Insert the squirrels into the "tree," and let your pooch do the rest. Dogs have fun figuring out and working to extract the squeaky contents. Be assured that this toy is durable: both of our dogs had difficulty destroying it. I even machine wash and dry the tree and squirrels. It's available at better pet supply stores.

The Kygen company also makes these other plush puzzle toys: IQube, Intellibone, Hide a Bird, Hide a Bee and more.
Classic Kong
This is the self-professed "world's best dog toy," and I know that your dog will agree. Great for puppies and dogs alike, this stuffable rubber toy is an essential toy in every dogs' life. Helpful in teething or keeping mouths and minds busy, the hollow yet durable toys can be stuffed with goodies like canned food, peanut butter, Kong spray, Easy Cheese or with kibble that's been soaked in water — and then frozen. Give a frozen Kong to your pooch as you leave for work, and he'll stay busy and satisfied for a spell.
Kong Extreme
This is the same as above, but more resilient. It's our choice, as our Bruiser is a power chewer and hasn't destroyed his yet.
Senior Kong
Ditto, but with softer rubber to accommodate an aging dogs dentition. Why should young pups have all of the fun?
The company also makes a Kong Wobbler. Great for dispensing treats or a meal, it will be a hit. Watch the fun here
Tug a Jug, Kibble Nibble, Football, Chuckle — just to name a few help your dog transform destructive chewing habits into healthy playtime. Tug a Jug and Kibble Nibble are great "foraging toys" that allow pooches to use their natural instincts, but in a directed, healthy fashion.
A ball launcher that saves your arm and keeps your hands dog slobber free? Believe it, friends. And, dogs go crazy for it.
Tennis balls
Tennis balls get a bad rap from a lot of folks because they feel they're unsafe, but in all honesty, every dog that I know treats theirs pretty well, used under supervision. If they get "popped," we just toss them and offer new ones. Happiest dogs ever. We buy them by the bag full and use them with the Chuck-it.
For cats:
Furry mice
These old standbys stand the test of time. As close to the real thing as they can get, toss one out and cats will chase, stalk, attack and bat these simple joys of feline life. Available at pet stores, grocery stores and discount stores everywhere.
Cat trees
Felines love to perch, hide out and scratch their claws. Cat trees give them everything that they want, and more. Many styles, sizes and price ranges. Here's a example.
These unique cat "houses" give cats what they love, and the flexible design allows you to "build" a structure that suits your cat.
This nifty gadget will engage your cat with its "interaction." It has variable speeds to choose from and it's durable. Available from www.panicmouseinc.com.

Catnip
Need I say more? Cats everywhere (though some young cats do not react to its intoxicating effects) love this natural herb. It's available in catnip toys or in its dried form. Sprinkle it on the floor and let them have fun.
Cats love to explore and "dig out " things that are hidden. The Peek a Prize gives them what they need to satisfy their exploring and manipulating skills. Available from Pioneer Pet Products (SmartCat)
Paper bags and cardboard boxes
Yes, we frequently leave these lying around for our cat, Silver and he loves them. Plus, they are free.
So, there you have it, fresh opinions from those that matter — the pets themselves. But one last thing. The best gift that you can give your pet: yourself, and your time. Don't forget to play today.
Lorrie Shaw is owner of Professional Pet Sitting, and a regular contributor to AnnArbor.com's pet section. She wrote the popular piece "The bucket list for pets: What does your dog want to do before he dies?" Reach her via e-mail and follow her pet adventures on Twitter.