Posted on
Sat, Oct 23, 2010 : 9:28 a.m.
The process of a pet food recall: The role of consumers and companies
By Lorrie Shaw
In recent months, you've read about several pet food recalls from different companies ranging from salmonella contamination to the possible inclusion of excessive Vitamin D. Some recalls were precautionary and initiated by the companies that produce the products, but others occurred in part because health problems were experienced by pets. The problems were noted and reported to the Food and Drug Administration's veterinary division.
It's important to remember that recalls are in no way intended to demonize a company or send them into financial ruin. These recalls, if you will, are designed to facilitate communication to correct potential problems in a system that typically works pretty well, considering the amount of pet food produced each year.
So, as a pet owner, you might be wondering how the process works and how you might go about reporting a pet food safety issue. The FDA takes the safety of food for pets seriously, and they understand clear, concise information is key in helping them work with pet food producers in getting situations under control quickly. It incorporates a dual approach, allowing pet food producers an easy way to dialogue with the FDA if they suspect a problem might have occurred and consumers a way to easily report an illness that may be related to food their pet has eaten.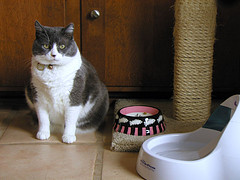 Photo courtesy of Flickr user Chika Watanabe
So with that in mind, in September 2009, the
Reportable Food Registry
was created. The purpose? To give Registered Food Facilities a way to report a breach in production that may cause a health problem or illness. To clarify, quoting the FDA website:
"Registered Food Facilities that manufacture, process, pack, or hold food for human or animal consumption in the United States under section 415(a) of the FD&C Act (21 U.S.C. 350d) are required to report when there is a reasonable probability that the use of, or exposure to, an article of food will cause serious adverse health consequences or death to humans or animals."
Additionally, pet owners can access the Safety Reporting Portal to alert the FDA to a safety issue.
There is one more thing you can do to empower yourself if you're a pet owner and you suspect there may be a food-related illness and it's incredibly simple: save your pet food containers and bags, especially if you store the food in a plastic bin or other container. As Mel Freer, a pet sitter and pet blogger in Eagan, Minn., reminds us, there is important information on the outside of that container — including the code date/UPC number, "use by" date, the bag size and weight and the exact name of the pet food. All are things that pet food companies and the FDA use to track and identify packages of pet food in a recall.
For added measure, the Veterinary Information Network News Service created an online database for veterinarians so that they can keep up with the ever growing list of foods and veterinary drugs that have been recalled.

Lorrie Shaw is a dog walker and owner of Professional Pet Sitting, and is a regular contributor to AnnArbor.com's pet section with her blog, More Than Four Walls, where she examines topics ranging from social issues, behavior and, of course, pet health and safety. Reach her via e-mail and follow her on Twitter @psa2