Posted on
Mon, Apr 16, 2012 : 5:45 a.m.
Therapy dog provides comfort to hospice patients
By Ann Arbor Animal Hospital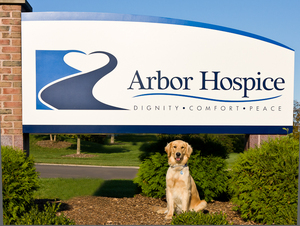 Photo courtesy of Arbor Hospice
The Ann Arbor Animal Hospital has an ongoing series on our website about some of our patients who are also working animals. The series, called "More than man's best friend," is intended to shed light on the important jobs that animals do, as well as how they got their job.
Last year we wrote about a therapy dog named Belle, as well as the K9 unit at Detroit Metro airport.
This edition is about Alpine, a therapy dog for Arbor Hospice.
Tell us about Alpine, Arbor Hospice's therapy dog.
Alpine is a 2-year-old female Golden Retriever selected especially for Arbor Hospice. She is a career changed dog from Leader Dogs for the Blind in Rochester, Mich. In August 2011, when LDFB discovered that Alpine had cataracts, she came to Arbor Hospice to bring comfort and companionship to patients and their families. She is friendly to all people, tolerant of other animals and non-reactive to sounds and smells. She has successfully completed the Leader Dogs for the Blind training and has passed the American Kennel Club Canine Good Citizen test.
What is a therapy dog?
A therapy dog is specially trained to provide affection and comfort to people, particularly those in hospitals, retirement homes, nursing homes, schools and stressful situations. Therapy dogs can be any breed, but they must have an outstanding temperament. Studies have shown significant health benefits to using trained animals in patient care.
What did Alpine have to do to pass the Canine Good Citizen test?
There are 10 items on the Canine Good Citizen test. Alpine had to properly accept an approaching stranger, sit politely for petting, walk comfortably on a loose lead, walk through a crowd, sit on command and stay in place, come when called, react calmly around another dog, react confidently to a distraction, behave when left with a trusted person other than the handler and pass an appearance and grooming test.
Who takes care of Alpine?
As a valuable member of Arbor Hospice's volunteer department, Alpine is assigned to a group of volunteer handlers. The handlers are responsible for escorting her on her patient and family visits, as well as walking her when she has quieter days spent in the office. All of her handlers have been trained on specific handling skills and proper vocabulary and hand signals.
She also has a tremendous support system in her Arbor Hospice co-workers and community members. Pet Supplies Plus of Ann Arbor donated numerous dog supplies, Dexter Mill of Dexter coordinated free food for life with Wellness dog food, Ann Arbor Animal Hospital provides annual health exams and vaccinations, and Merial provides heartworm preventions.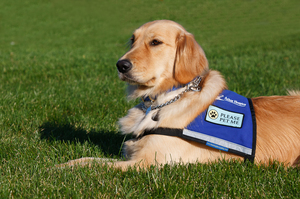 Photo courtesy of Arbor Hospice
What is a typical day like for Alpine?
On most days, she arrives at Arbor Hospice at 8:30 a.m., ready for a day visiting with patients and their families. An Arbor Hospice volunteer, and trained handler, schedules Alpine's appointments with patients in their own homes, as well as nursing homes, assisted living facilities and senior living facilities. A trained handler picks Alpine up from the office before a scheduled visit, allowing time for a quick brushing and walk.
The handler drives Alpine to her appointment and facilitates interaction between her and the patients, and their families. During a visit, she sits or lays near the patient, often times with her head on the patient's lap.
As a therapy dog, what is Alpine allowed to do? What is she not allowed to do?
Alpine enjoys human contact and simply loves being petted. She often puts her head on a patient's lap, and sometimes nudges a patient if he/she stops petting her. She is trained not to shake paws, give kisses or climb on furniture, as she is taught to keep all four paws on the floor so she does not accidentally knock over a child or patient. However, she is allowed to put her two front paws on a chair next to a patient's bed to be within reach of the patient if necessary.
Where does Alpine stay when she is not working?
Alpine has a kennel in the Arbor Hospice Ann Arbor and Plymouth offices. When she is not visiting patients, she is often in her kennel resting between patient visits. At night and on the weekend, she goes home with her host family, an Arbor Hospice nurse.
What is a day off like for Alpine?
Although she has special training, Alpine is like most other dogs; she loves to go for walks and to swim. Her host family lives near a farm, and on the weekends, she visits the farm to run and swim. Alpine is also an avid Facebook user. She loves to keep in contact with the many people she meets on her visits, and can often be found updating her Facebook page (www.facebook.com/arborhospicealpine).
How many visits does Alpine make?
Alpine visits patients and families Monday through Friday throughout Arbor Hospice's seven-county service area. She typically makes two or three visits a day, depending on location. Most therapy dogs work until the age of eight. Upon retirement, Alpine will likely be adopted by her host family.
How do you determine if Alpine's visits are successful?
Most of the patients and facilities she visits continue to ask for her to come back, and her schedule is filling fast. The fact that so many people want to see her, over and over again, says something about the comfort and companionship she brings. Many patients' eyes light up when Alpine walks into the room. They feel comforted by her softness, warmth and gentle demeanor. Some of the patients refer to her as their "baby" or "friend." And, many patients love her continued presence at their side, making them feel loved and special.
Can you share any stories with us about Alpine's patient visits?
Alpine has developed special bonds with many patients and their families. But one 16-year-old girl, dying of Ataxia Telangiectasia — or AT Syndrome, a rare, neurodegenerative disorder — has been especially touched by Alpine. Once a week, Alpine travels to Jackson to visit this young lady.
On Alpine's second visit, the girl joyfully called to Alpine from the living room, announcing that she had made something for her. When Alpine entered the living room, she was presented with a blanket made by the girl, especially for Alpine. Throughout her visits with the girl, Alpine lays comfortably between the girl's legs on the floor, with the blanket placed on top, keeping them both warm. At the end of Alpine's visit, the blanket goes too, following her back to the office and home at the end of the day.
David Caddell is the hospital director of the Ann Arbor Animal Hospital, a locally owned and operated Companion Animal Hospital. David can be reached at 734-662-4474 or dcaddell@AnnArborAnimalHospital.com.