Posted on
Thu, Jul 15, 2010 : 11:30 a.m.
Doctor's prescription for lonely older patient: Adopt a cat
By Cathy Theisen DVM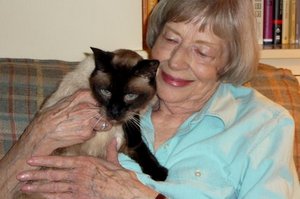 Photo by Yarrow
Elizabeth Hoffman was 66 years old and alone. She'd lost her beloved Siamese cat, Floyd, at the age of 14, and felt truly despondent.
She thought about getting another cat, but a family member discouraged her, saying she was too old to get a new animal, and it would be too expensive to maintain. Hoffman sadly thought this might be true.
Fortunately, she had an appointment with her physician, Dr. Mel Barclay, the next day. They talked a bit about some of her health issues, and Hoffman told Dr. Barclay what had happened with Floyd and how depressed she was.
She remembers how kind and compassionate he was, empathizing with her loneliness, and listening to her story. When she went to check out, the receptionist handed her three prescriptions, one of which was for a Siamese cat. It meant so much to her -- she still has the prescription 16 years later!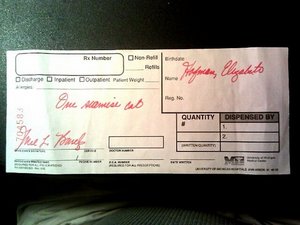 photo by Yarrow
Hoffman put that prescription on her fridge and considered it for a week, and then decided she'd better follow the doctor's orders, age be damned. She adopted 10-week-old Alfie, and says he was "like a medicine" that helped her to heal.
Says Hoffman of her previous pets, "You don't ever forget them, like any loved one. You hold them in your heart. But sometimes the love of another can help you heal, and Dr. Barclay knew that would be the case for me. I loved that man."
I met Hoffman in April, when the now 16-year-old Alfie fell ill with a common geriatric disease of cats, hyperthyroidism. Chatting one day, she told me how Alfie came to be hers, and I thought the story was worth sharing. I looked up Dr. Barclay online; much to my dismay I found his obituary. If only I could have shared with him what a difference his compassion made in the lives of Hoffman and Alfie.
Dr. Cathy Theisen is a house call veterinarian in Ann Arbor, with 24 years experience in small animal medicine and surgery. Visit her website at www.cathythevet.net, or e-mail questions/comments to cathythevet@comcast.net.