Posted on
Sat, Jan 28, 2012 : 10:17 a.m.
Need to relinquish your pet and afraid of the stigma? HSHV assures that there is none when you do the right thing
By Deb Kern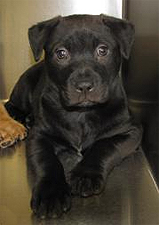 Photo by Ann Edwards
Jeri, one of our shelter supervisors at the Humane Society of Huron Valley stopped me yesterday and told me another story that once again has me asking, "What are people thinking?"
A woman came into our animal intake department yesterday with a small pet carrier, and she was obviously upset.
Driving in Canton, she saw a carrier on the side of the road and, as she passed it for the second time that day, decided to stop. Having recently adopted a cat from HSHV, she thought the carrier looked in good enough shape that she might be able to donate it to our shelter.
What she was not expecting to find inside was a cold and scared pair of pets — a cat and a very senior dog, barely able to fit together inside. Cramped, starving and sitting in their own waste, it is hard to say how long they had been sitting there. Both of them have very serious medical conditions which makes it even more horrible that they were left in the cold. The woman drove them straight to HSHV.
I'd like to say that this type of thing rarely happens but I can't. In the last three weeks alone, we've found two cats dumped in our parking lot, a dog tied up to a tree, eight puppies left in an abandoned house waiting to be demolished and a senior cat left in a vacated apartment. I could go on and on, but I think you can see the problem.
Why are people deliberately leaving their pets to die? We mostly think people are embarrassed or are afraid to bring their pets to the shelter. Both of those reasons don't hold weight, and here's why.
First of all, HSHV will never judge you for bringing your owned pet to us. Michigan's economy has been hit hard, and people are making real and very difficult choices. Maybe you got a pet and realized you really weren't ready for the commitment. That happens, too. All we ask is that you bring in your animal and give us as much history and information about your pet as you can so that we will have an easier time rehoming them.
If you become unable to care for pet and you live in Washtenaw County, call us. Call us as soon as you know you might not be able to care for them. There are times when we are full, and you may need to wait a week depending on the urgency of your situation, but if you work with us, we will work with you.
Secondly, HSHV will not euthanize any animal that can be placed up for adoption, and there are no time limits at our shelter. There are times that a serious illness or aggression will make an animal unadoptable, but at HSHV each pet is evaluated with the first thought of saving a life.
If you haven't been to HSHV in the last seven years then you may not realize what an amazing facility it is. The emphasis is always on how to save lives — period.
HSHV was named as the best animal shelter in Michigan for the second year in a row by the Michigan Pet Fund Alliance because we save more live than any other animal shelter of similar size in our state. Are we proud of that? You bet. But, the real winners are the homeless animals in our community.
In some cases people may not be able to afford veterinary care, but that is still no reason to dump them to die. There maybe be options for you, but if you don't call us we can't discuss them with you. HSHV has affordable veterinary care and is open to the public.
When you bring a pet into your home, you are their caregiver, just like when you bring a human life into your home. You made the choice. Would you take your 2-year-old out on a dirt road and leave him or her?
I'm sure I will get a whole bunch of comments now — go ahead — tell me why animals should never matter as much as humans. I know people have their own beliefs, and I am not going down that road. I work at the humane society, so obviously I believe that all living things deserve to be treated humanely. What I will say to people that don't want to deal with the painful and hard decision to relinquish their pet is this — man up!
Do the right thing by your pets, because they trusted you to give them the best care possible, including doing the right thing at the end of their life.
If doing the right thing because it is the humane thing to do is not enough for someone to make the best decision for his or her pets, then maybe realizing that animal abandonment is against the law will.
If we find you we will prosecute you.
Sometimes getting the penalties to stick is hard and time consuming and many people would say not worth the effort involved. It is worth it to us. We will be their voice if you won't.
The seriously sick and senior dog left inside the crate with the terrified cat had a microchip, so we might get lucky and actually find the person that left the animals on the side of the road. I hope we do.
And to the woman that cared enough to stop and bring in the pets, we say thank you because we know that there are good people in this world. Sadly, at HSHV we see the worst of humanity a little too often.
If you see an animal in danger, expect abandonment or cruelty, and you live in Washtenaw County, please call the Humane Society of Huron Valley's 24-hour Cruelty and Rescue line at 734-661-3512.
The Humane Society of Huron Valley, located in Ann Arbor, was awarded the "Best Large Animal Shelter in Michigan" by the Michigan Pet Fund Alliance, for the second time in a row this year, for saving the most lives. HSHV is an independent 501(c)(3) nonprofit organization and relies solely on donations from businesses and individuals to support our community programs.
HSHV is not affiliated with the Michigan Humane Society or any other humane organization. The mission of HSHV is to promote responsible and compassionate care of all animals in our community.
Deb Kern is the marketing director at HSHV.