Posted on
Sat, May 15, 2010 : 6:48 a.m.
Local veterinarian offers tips on exotic pet care
By Lorrie Shaw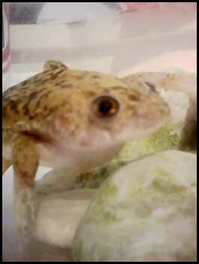 Lorrie Shaw | Contributor
When Jen Azofeifa was a child growing up on a farm in Costa Rica, she and her family had the opportunity to interact with many types of animals and pets regularly. After completing high school, Jen was pulled toward the sciences - initially studying pre-med and nursing. But in the end, she felt that veterinary medicine was her calling.
After completing her DVM from Ross University School of Medicine, Dr. Jen (as she prefers to be called) never intended to be the one to call on when care is needed on exotic pets. After spending a period of time at Animal Kingdom in Ann Arbor, Dr. Jen was mentored by another vet there who was an expert on exotics, like bearded dragons, cockatiels and ferrets. 
The hands-on experience that she got there is now benefiting clients at
Dexter Animal Clinic
, where she is on staff. Aside from seeing dogs, cats and bunnies, 
pocket pets
(hamsters, gerbils,
rats
, guinea pigs, sugar gliders) are seen frequently. She also has experience with ferrets, reptiles, hedgehogs,
degus
and some birds.
When asked what the biggest problem that exotic pets face, Dr. Jen said, "Proper husbandry - it's the first rule of exotic pet ownership." She sees many animals that come in at a relatively young age with their owners, usually because they are not well. 
Despite their youth, they look aged beyond their years and not in overall optimum shape - and generally it's due to improper environment, poor husbandry and lack of veterinary visits, which, just like domesticated pets like dog and cats, should be done at least once a year to safeguard their health. 
The doctor offered some more great advice. For example, to facilitate an easier and more thorough exam, it's important to be sure that your animal is accustomed to being handled, so start them young, and do it often! Some exotics do need
vaccinations
, like ferrets - who should have
rabies
and distemper updated yearly. It's important for owners to understand specific care needs. To illustrate, she noted that some people get
reptiles
, thinking that they need very little attention; they couldn't be more wrong. 
"The correct housing environment, the right equipment to help regulate body temperature and proper diet," said the doctor, who is also on staff a few days a week at the
Humane Society of Huron Valley
. 
Also, some of these animals live a long time - upward of 50 years!
One of the best directive in having exotic pets? Always wash your hands
before and after
handling them.(Remember the "sing happy birthday twice" rule!) In doing so, you safeguard against transmission of illnesses to and from your pets, like
salmonella
.
At its core, the idea of having exotics is really not that much different than having 'tradtional' pets; they still require the same level of attention and daily care. However, familiarizing yourself with all individual care requirements, and consideration to address their needs is essential to allowing them to live a healthy life.

Lorrie Shaw is a regular Pets Contributor to AnnArbor.com and owner of Professional Pet Sitting. She lives with her family that includes 3 pets in Dexter Twp. and can be found dog walking in local neighborhoods on any given day. E-mail her at: ppsa2mi@gmail.com