Posted on
Fri, Feb 3, 2012 : 8:36 a.m.
3 things to watch as the Michigan hockey team plays host to Miami
By Pete Cunningham
The No. 7 Michigan hockey team will host No. 18 Miami this weekend at Yost Ice Arena.
Much has changed for both teams since they last met in the second week of November. Here are some things to watch for as they prepare for 7:35 p.m. games on Friday (FSD-Plus) and Saturday (CBS College Sports); and for the stretch run of the college hockey season.
1. Let's get physical
Much like Michigan's last opponent, Notre Dame, Miami prides itself on its physical play.
With a rougher style on the ice, expect 6-foot-3, 214-pound senior defenseman Greg Pateryn to set the tone for the Wolverines.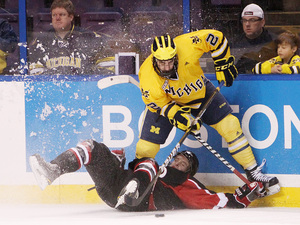 AP Photo
"Pateryn plays physical every night and every weekend," said Michigan coach
Red Berenson
. "He's been a rock back there, and he'll need to be a rock this weekend."
Pateryn doesn't shy from contact, in fact, he feeds off of it.
"I'm a physical guy, I like when a guy's coming to hit me. It helps me get into my game," Pateryn said. "If someone's coming after me and I knock them down, it gives me a little more confidence."
Physical defense translated into offense for Pateryn against Notre Dame when he had assists in back-to-back games.
"Once I get that first hit, I think it kind of awakes other things," Pateryn said. "It just gives me that confidence I need to be able to do a little more with the puck than if I'm just sitting back on my heels or something."
After the Notre Dame series, several Michigan players said they were a little beat up, which is why the off-week came at a perfect time. Plus, the Red Hawks's physical style comes at a steep price, as they are the 11th-most penalized team in the nation, third in the CCHA.
Michigan's 43rd-ranked power play has been spotty this season, but against Notre Dame converted on three opportunities. And there should be many more chances to keep that hot streak going against Miami.
2. This is different from the first meeting
Miami took five points to Michigan's one when the teams met in Oxford, Ohio, on Nov. 11 and 12, with Michigan losing 2-1 and in a shootout after a 3-3 tie.
Those results shouldn't be taken to heart this time around. After all, Those games were nearly three months ago and at a point in the season when neither team was playing at the level they are now.
Miami was just starting to find its way after a 3-6 start and the series was the beginning of a seven-game winless streak for the Wolverines.
"We were going through a little skid there, not as confident I'd say. Now I'd say the tides have turned," said forward Chris Brown.
Michigan is 6-1-1 in its last eight games, and Miami has won six of its past eight.
"They're hot of late, they're doing well, but so have we," said senior captain Luke Glendening. "We have to come in and play our game, can't really worry about what they're doing."
The most obvious difference for Michigan this time around will be the presence of sophomore defenseman Jon Merrill, who was serving a suspension for a violation of team rules last the teams met.
Merrill's presence should help slow Miami's scoring attack, led by CCHA forward of the month Reilly Smith, who had seven goals and three assists in January and is third in the nation in goals with 19. Smith had two goals against Michigan in November.
"I think that we just have to play the same way (we've been playing)," Brown said. "If we play the same way, we're going to show that what happened down there wasn't exactly the game plan."
3. CCHA standings shift
Take a look at the CCHA standings now. Now you see them now you don't.
The Wolverines are in seventh place, but are just five points out of first place and have played two fewer games than three of the teams ahead of them, including second-place Miami.
Sitting idle last week, Michigan dropped three spots in the standings. Berenson said his team can't get too caught up in the fluctuation.
"We're all going to play 28 league games, when the smoke clears, that's the number so we can't get caught up," Berenson said.
Last season, Michigan won eight consecutive games to capture the CCHA regular-season crown. Entering this season's last eight games, the Wolverines are in position to do the same.
"We have to win games now to battle for first place," Brown said. "That's one of our goals at the beginning of the season that we can still achieve."
Contact Pete Cunningham at petercunningham@annarbor.com or by phone at 734-623-2561. Follow him on Twitter @petcunningham.