Posted on
Fri, Mar 23, 2012 : 5:59 a.m.
3 things to watch: Michigan vs. Cornell in NCAA hockey tournament opener
By Pete Cunningham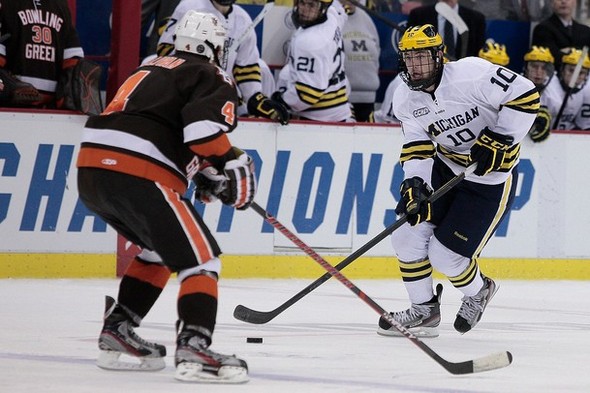 Chris Asadian | AnnArbor.com
The Michigan hockey team ended a 14-year NCAA tournament berth drought in 1991. Since then, it has earned 22 consecutive tournament berths.
Its opponent 22 years ago? Cornell.
A lot has happened since their first and only meeting in the NCAA tournament.
Here are three things to watch for when the teams play Friday (9 p.m., ESPNU) in the first round of the Midwest Regional at the Resch Center in Green Bay, Wis.

Cornell in playoff mode
Michigan (24-12-4) has been playing playoff hockey each of the past two weekends, but let's face it, it was a diluted version. The Wolverines' CCHA quarterfinal series with Notre Dame was best-of-three, and by the time they were at Joe Louis Arena for the CCHA semifinals and final, they had already locked up an NCAA tournament berth.
Yes, the games at the Joe were single elimination, but playing with the prospect of being eliminated from the conference tournament is different than if the season could end with a loss.
That's what Cornell (18-8-7) faced Saturday in its third-place game of the Eastern College Athletics Conference. Having suffered a 6-1 loss to Harvard the night before, Cornell was positioned firmly on the bubble, needing a win to secure its spot in the 16-team tournament.
The Big Red pulled off a 3-0 win, and the next day earned their 19th NCAA tournament berth. Goalie Andy Iles earned his sixth shutout of the season, all the more impressive considering it was only the fifth time in 39 games that Colgate forward and Hobey Baker Award finalist Austin Smith — who is first in the nation in goals (36) and third in points (57) — was kept off the score sheet all season.
"Obviously there was a lot of pressure coming into the game, knowing that we had to win to get in the tournament," Cornell coach Mike Schafer told the Ithaca Journal. "It's such a tough turnaround, the hopes of winning an ECAC championship get dashed. To turn around and know in the consolation game you've got to win in order to advance to the NCAAs, I give our kids credit."
Michigan knows winning a consolation game can act as a catalyst to a tournament run. Last year, Michigan lost to Western in the CCHA semifinals, won the consolation game and made it all the way to the NCAA title game.
"We'll be ready for them," Michigan coach Red Berenson said. "Mike Schafer has done a good job for them for a long time over there. He's had good teams, and the style of play that they play has been consistent year after year."

New lines
Berenson decided to mix up his lines heading into this weekend, swapping right wingers Chris Brown and Derek DeBlois. He said this was done in an effort to jump-start the production of both lines, but it wasn't the sole reason.
Cornell's players are, on average, one inch taller and five pounds heavier than Michigan's players and play physical hockey. Putting Brown (6 feet, 2 inches, 207 pounds) on a line with Kevin Lynch (6-1, 206) and Travis Lynch (5-11, 177) and DeBlois (5-10, 181) on a line with David Wohlberg (6-1, 203) and Alex Guptill (6-3, 189) spreads Michigan's size more evenly across the two lines.
It seems a bold move heading into the NCAA tournament, but Berenson said he's not afraid of the timing, recalling a bold move made when the teams met in the 1991 NCAA playoffs. Steve Shields, an eventual two-time All-American who played in 37 of the team's 47 games, was in net as the team split the first two games of a best-of-three series. In the third and deciding game, Berenson pulled Shields in favor of sparingly used backup Chris Gordon and the team won 9-3.
"Shields had been our goalie all year. We split the first two games at Yost, and Shields was fighting the puck; just every shot was an adventure," Bereson recalled. "You gotta do what you think is best for the team…You go into the playoffs and you need everyone humming, you can't have passengers and you can't have players in slumps."

They're not stealing your chants, you stole theirs
The famously rowdy Michigan student section, commonly referred to as the "Children of Yost," likely will be represented at the Resch Center, as will the famously rowdy Cornell contingent, known as the "Lynah Faithful."
Inevitably, the Children of Yost will recognize the Lynah Faithful's cheers as similar to their own, and some sort of "our cheer is better than yours" back-and-forth likely will transpire.
That's all well and good, but the Children should refrain from accusing the Faithful of copying or stealing their chants. When the Faithful traveled to Yost for the 1991 playoff series between the two, the fans at Yost were impressed by their vigor and that is where many of their favorite chants were born.
From calling the opposing goalie a "sieve," telling him "it's all your fault" after a goal and acting like incoming phone calls are the goalie's mother calling to tell him he sucks, all were stolen from — or at least in part inspired by — the Cornell student section. Or so the story goes.
Most of the cheers have a common theme: telling the opposing goalie he sucks.
The infamous post-penalty cheer, though. That's a Yost original.
Contact Pete Cunningham at petercunningham@annarbor.com or by phone at 734-623-2561. Follow him on Twitter @petcunningham.