Posted on
Fri, Mar 16, 2012 : 10:27 a.m.
3 things to watch: Michigan hockey team vs. Bowling Green in CCHA semifinal
By Pete Cunningham
It wasn't too long ago that the Michigan hockey team traveled to Bowling Green for its final series of the CCHA regular season. No one expected the last-place Falcons to win against the Wolverines that weekend, but that's exactly what they did in the series opener.
No one expected 11th-seeded Bowling Green to be the first last-place team to make the CCHA Tournament semifinals either, but the Falcons now stand in the way of Michigan's quest to reach the championship game for the 16th time in program history on Friday (8:05 p.m., FSD-Plus) at Joe Louis Arena in Detroit.
Here are three things to watch for in the semifinal matchup: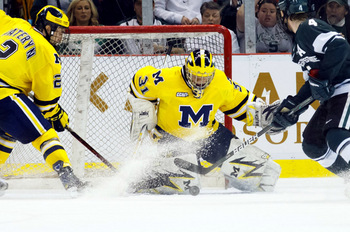 AP Photo
Hockey at The Joe
Michigan goaltender Shawn Hunwick recalls his first time playing at Joe Louis Arena as "an "absolute embarrassment." In less than 20 minutes, Hunwick lost his stick, had to dive across the goal after coming too far out and gave up a goal among just four shots faced.
"It was a debacle," Hunwick said earlier in the week.
Both Hunwick and Michigan coach Red Berenson have admitted that after that game, they wondered if he had any sort of future with the team.
By the end of that season, he was being awarded the CCHA Tournament MVP trophy at center ice.
A lot has changed since then. Hunwick has gone from walk-on to Hobey Baker finalist, and The Joe now seems to bring out the best in him and the rest of the Michigan team, which is 3-0 there this season, including wins over top-ranked Boston College and two in overtime against Michigan State.
Thirteen players on the Wolverines' roster are from the state of Michigan, 14 if you count Mike Chiasson, who grew up in Nevada, but first strapped on a pair of skates at Joe Louis Arena when his father, Steve, played for the Detroit Red Wings. Hunwick believes having all the Michigan natives on the team contributes to the team's success at the JLA.
"Guys get pretty excited to play in the same place they've watched their heroes play growing up," Hunwick said, adding that since that first performance, "The Joe's been good to me."

Comeback kids
With the way Bowling Green has been playing of late, Michigan should know to not get too comfortable with a lead against the Falcons. In the third and deciding game last weekend against first place Ferris State, Bowling Green was down 3-0 in the first period and trailed 3-1 in the third, but managed to come back and win 4-3 in overtime.
Bowling Green trailed Northern Michigan in both of its wins in the quarterfinal round the weekend before, as well.
With the day off on Sunday, Michigan players could follow the deciding game against Ferris. Many said they stopped paying attention after the first period.
"I saw that it was 3-1 going into the third, so I thought it was pretty much a done deal for Ferris," said freshman Phil Di Giuseppe. "I was really surprised."
Ferris had only given up more than three goals in a game eight times all season and not once lost a three a goal lead, making Sunday's comeback even more surprising.
Players and Berenson said the manner in which Ferris lost the lead reinforced the idea that if they are in the lead, they need to keep their foot on the gas.

Dan DeSalvo
Bowling Green forward Dan DeSalvo had four goals in the first 36 games of the season. He's had 10 in the last six and now leads the Falcons in goals.
DeSalvo's production is the primary reason Bowling Green is averaging 3.7 goals in the postseason, more than double its regular season production.
"I've never seen anything like it. To see a player put up 10 goals in six games is certainly impressive and we're happy he's on our team," said Bowling Green coach Chris Bergeron.
Berenson and Michigan players said they're well aware of DeSalvo's recent exploits and will be keying on him Friday.
"He's the real deal," Berenson said. "Everything he touches goes in."
Contact Pete Cunningham at petercunningham@annarbor.com or by phone at 734-623-2561. Follow him on Twitter @petcunningham.