Posted on
Sun, Jun 9, 2013 : 1:06 p.m.
A year after his first race, Neil Rao wins second annual Ann Arbor Marathon
By Kyle Austin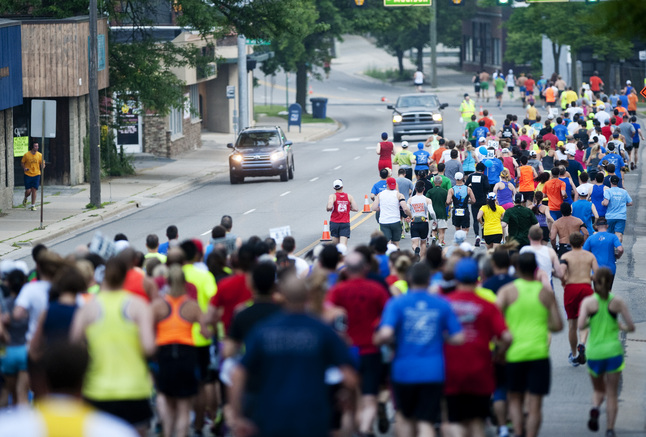 Daniel Brenner I AnnArbor.com
Related:
A little over a year ago, Neil Rao's workouts consisted of going to the gym and spending some time on the elliptical machine.
When friends encouraged him to try competitive distance running, he thought it would give him a reason to travel around the country for races and see different friends.
Winning races wasn't on the radar. But fourteen months after running his first marathon, he recorded his first win.
Rao crossed the finish line first at Sunday's 2nd annual Ann Arbor Marathon, finishing in a time of 2:41:06.
"People said it's a fun thing to do, a way to see different places and visit friends, so I started training for one, did pretty well in my first one and wanted to see how much better I could get," Rao said of marathons.
Rao won the race by four minutes over second-place finisher Jake Gillette.
Josephine Weeden won the women's race in a time of 3:04:26, ninth overall.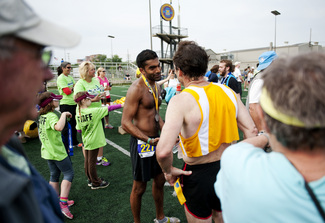 Daniel Brenner | AnnArbor.com
The three were part of a group of more than 400 that finished Sunday's marathon race at Elbel Field. Nearly 900 finished the half marathon, and 576 finished the 5-kilometer run/walk.
Ann Arbor marked Rao's fifth marathon, after running his first one Washington D.C. in March 2012. He signed up for Ann Arbor when he was picking a weekend to visit his parents in Michigan and a friend suggested he time it to coincide with the race.
Rao, who now lives in Seattle, admitted he's surprised he's been this successful so soon in his running career.
"I sort of picked it up," Rao said of marathon running. "It's fun."
Rao said he took the lead on Geddes, within the first three miles of the course, and never lost it through a hilly course that competitors said was more challenging than last year.
"By 24 I started cramping in my left calf, I was worried that somebody was going to pick me off at the end," Rao said. "So you're just playing these mind games 'No they won't, no they won't', and trying to convince yourself that you're going to be all right."
As opposed to last year, when neither marathon winner had stepped foot in Ann Arbor before the race, both the male and female winners this year had ties to the University of Michigan and the area.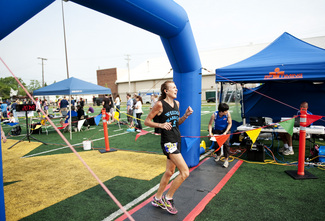 Daniel Brenner | AnnArbor.com
Both Rao and Weeden went to school at Michigan, and Weeden is now an adjunct clinical assistant professor in Michigan's School of Dentistry. Rao is originally from Novi, and Weeden lives in Saline.
Weeden was never challenged in the female field, finishing seven minutes faster than the runner-up.
Her time was 16 minutes faster than her personal best, she said, a number she attributes to the fact that she trained for a race much longer. Weeden ran the Keys 100 Mile Run in Florida last month, her second ultramarathon.
"I was training for a 100-miler, so this seemed easy," Weeden said. "I know that seems weird, but it's true."
Weeden ran the marathon last year, and said she finished an hour slower while pacing her husband. This year her husband had a foot injury, and other members of her group dropped as well. So Weeden ran by herself, and found her pace faster than she expected.
"Everyone else bailed but me, so I ran solo," Weeden said.
Kyle Austin covers sports for AnnArbor.com. He can be reached at kyleaustin@annarbor.com or 734-623-2535. Follow him on Twitter @KAustin_AA.