Posted on
Tue, Dec 14, 2010 : 1:53 p.m.
Guinness World Records confirms Big Chill at the Big House record crowd, puts initial number at 85,451
By Jeff Arnold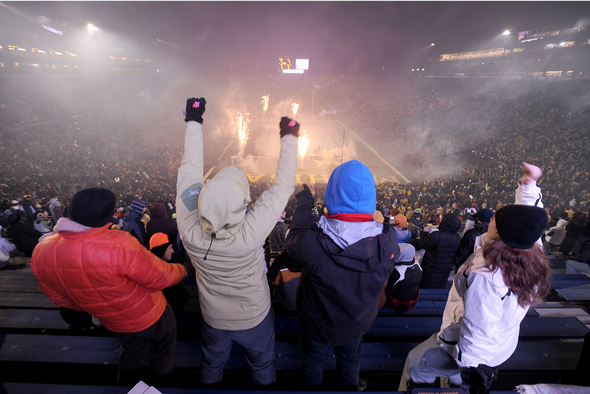 Angela J. Cesere | AnnArbor.com
As expected, the Big Chill at the Big House produced a world record crowd.
Michigan officials announced an attendance of 113,411 on Saturday for the outdoor hockey game in Michigan Stadium, shattering the mark of 77,803. A Guinness World Records official who attended the game, however, says the number likely will be smaller. The base number he is working with is 85,451, which is how many tickets were scanned by the third period of the Michigan hockey team's 5-0 victory over Michigan State.
Guinness uses a different system of calculating attendance than the NCAA. Guinness adjudicator Mike Janela said Saturday that Guinness relies on the number of tickets scanned on the day of event rather than tickets sold.
"It's a little better system than going down in the bleachers and counting them," Janela said during Saturday's game. "Technology has advanced to the point where it's easy enough. Now that everything is electronic, it makes jobs like this a lot easier. We've done a lot of records with tens of thousands of people, in this case hundreds of thousands, and the electronic element helps a lot."
Guinness officials also have a list of non-ticket holders who count toward the record. Media members and players are among those who would not be included in the final count, Janela said.
Michigan relies on the number of tickets sold for an event and then includes media members, stadium workers and other people present for a game to reach an attendance mark. The announced crowd of 113,411 is considered the largest crowd to witness an event at Michigan Stadium, which also holds the NCAA record for attendance at a sporting event.
The official said Guinness will continue to work with Michigan officials in establishing a final number, but that it would not become available for some time. Michigan associate athletic director for media relations David Ablauf said Tuesday afternoon that the number only partially represents the game's attendance as that scanners were still calculating totals when the initial number was reached. He said he did not know when a final number would be reached.
Janela presented Michigan athletic director Dave Brandon a plaque at Saturday's game, awarding the university the world record. The previous mark was set earlier this year at the International Ice Hockey Federation World Championships in Germany.
More than 74,000 attended the Cold War game between Michigan and Michigan State in 2001 at Spartan Stadium, but Michigan State officials did not go through the proper procedure of registering the mark with Guinness.
Fox Sports Detroit announced Monday that the game was the highest rated college hockey telecast in its 14-year history. The game delivered a 5.1 Nielsen household rating in metro Detroit (equivalent of approximately 96,400 households). The previous high was a 3.5 rating on Oct. 6, 2001 for The Cold War. Saturday's game was also broadcast nationally by The Big Ten Network.
Brandon said Saturday he was initially concerned about a late-arriving crowd, but was pleased with the final result. Brandon said he will continue to push for bigger crowds at Michigan Stadium, which will host its first night football game next September against Notre Dame. He said he would like to see crowd size eventually reach 114,000.
"When we put the tickets up for sale the latter part of March, we're all holding our breath. We're doing something for the first time," Brandon said. "We started seeing people buy tickets - 20, 30, 40, 50, 100 at a time—and you start saying, 'Gee, did we price these things too low?' and, 'Are people buying all these tickets really going to show up?'
"I walked in the stadium about 45 minutes before we dropped the puck and there were a lot of empty seats, and frankly, I was like, 'Where is everybody?' But it was amazing how people jammed in there."
Video from Guinness World Records official Mike Janela
AnnArbor.com sports reporter Michael Rothstein contributed to this report. Jeff Arnold covers Michigan hockey for AnnArbor.com and can be reached at (734) 623-2554 or by e-mail at jeffarnold@annarbor.com. Follow him on Twitter @jeffreyparnold.