Posted on
Fri, Feb 24, 2012 : 5:59 a.m.
Breaking down the CCHA standings and how the Michigan hockey team could finish
By Pete Cunningham
I've been avoiding figuring out exactly where the Michigan hockey team could finish in the CCHA regular-season standings because, quite frankly, all of the possibilities are enough to make your head explode.
With six points up for grabs for each team every weekend, and with the parity in the league — even first-place Ferris State has six losses and four ties in CCHA play — the possibilities are next to endless. Speaking last weekend with a CCHA official, whose job it is to prepare for this list of possibilities, even he conceded it's better just to wait and see where the chips fall.
But with the final weekend of conference play upon us, it is time to figure out where Michigan could finish in the CCHA standings. Michigan could finish anywhere from first to fifth, which means the Wolverines are guaranteed a first-round bye in the CCHA playoffs.
Technically, Michigan can finish tied for fifth/sixth place with Lake Superior State if the Lakers sweep Northern Michigan this weekend and Michigan is swept by Bowling Green. This point is moot, however, because Michigan holds the first tiebreaker (conference wins) over Lake Superior State.
Below is a breakdown of what needs to happen for the Wolverines to finish in first, second, third, fourth or fifth place. Fair warning, wrapping your head around every scenario could make you go cross-eyed. If it does, visit Cunningham Vision Centers and tell my dad reading his son's articles did this to you. He'll understand.

First place
This is, obviously, the most optimal of finishes for the Wolverines and, coincidentally, the easiest to figure out. Currently in second place with 47 points, Michigan needs to sweep Bowling Green to tie first place Ferris State with 53 points. Ferris would have to garner zero points in its home-and-home series against Western Michigan this weekend. Ferris and Michigan are the only two teams that could finish in first in the CCHA standings.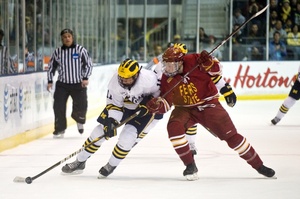 AnnArbor.com file photo
Western swept Ferris earlier this season, and Bowling Green has been swept in its last two series. It should be noted, however, that this is a much different Ferris team than the one swept by the Broncos in early December. The Bulldogs are on a 14-game unbeaten streak and are ranked No. 1 in the nation.
Michigan sweeping and Ferris being swept would create a tie between the teams for first place. The first tiebreaker when determining the No. 1 seed in the CCHA playoffs is conference wins. In this scenario, both would have 16, moving us to the second tiebreaker: regular-season winning percentage versus the other team. Michigan swept Ferris in Ann Arbor in October, so the regular-season title and top seed in the CCHA playoffs would go to Michigan.
Remember, this is the easiest scenario to figure out. Proceed with caution.

Second place
Michigan is in second place, but there are three teams within striking distance. If Michigan sweeps Bowling Green — no matter what happens with Ferris or any other team — this is the lowest it can finish. This is also the case if Michigan garners five points this weekend with a win and a tie with a shootout win against Bowling Green, or if every team within striking distance (Western, Michigan State or Miami) is swept.
None of those teams play each other this weekend, so that is a possibility.
After that, Pandora's box officially opens.
If Michigan gets four points on the weekend (possible with one win and a tie with a shootout loss, or two ties with two shootout wins), then Western needs a sweep of Ferris to tie the Wolverines. Western would hold the first tiebreaker if Michigan's four points came on two ties with shootout wins, but Michigan would get the No. 2 seed in the other scenario as it holds the third tiebreaker (total goals for and against in series between tied teams) over the Broncos.
New rule, once I've broken down the third tiebreaker on a scenario that emerges only if Michigan wins two shootouts, we move on to the next topic. Are there more ways in which Michigan can finish in second? Yes. Am I going to get into each one? Sorry, no.

Third place
As described above, one way for Michigan to finish in third place is if Western sweeps Ferris and Michigan wins a pair of shootouts against Bowling Green. Here is one way in which Michigan can finish in third with Michigan State or Miami finishing in second.
Miami needs to sweep Ohio State and for Michigan to be swept by Bowling Green, to finish ahead of the Wolverines. Michigan finishes ahead of Miami on second tiebreaker (see above) if the two are tied in the standings.
If Michigan State sweeps Notre Dame, it could finish ahead of Michigan if the Wolverines don't garner four points against Bowling Green. Also, if Michigan State sweeps Notre Dame, Michigan could tie the Spartans in the standings with three points against Bowling Green. If those three points come on a tie with a shootout win and a tie with a shootout loss, Michigan Sate wins the tiebreaker with more conference wins. If those three points come on a win and a loss, Michigan wins on second tiebreaker.
New rule in effect, moving on.

Fourth place
Basically, various combinations of the above scenarios puts Michigan behind Ferris and/or Western, Michigan State and Miami. Let's not exhaust ourselves figuring out all of the possibilities and just focus on one that's kind of fun.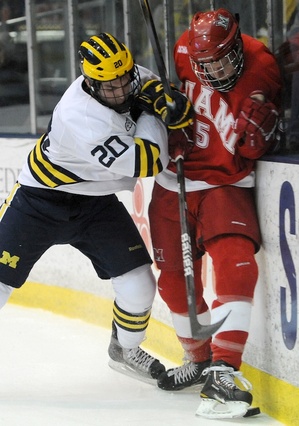 Angela J. Cesere | AnnArbor.com
If Western and Ferris split, Michigan gets swept, Michigan State gets three points with one win and a loss, and Miami sweeps ... take a deep breath ... then Michigan finishes fourth ahead of Michigan State (which they would have an equal amount of points) on second tiebreaker.

Fifth place
This is the big one because if Michigan finishes in fifth place, the Wolverines have to hit the road for a quarterfinal matchup instead of playing in Yost Ice Arena. To recap, for this to happen Michigan needs to be swept by Bowling Green and Miami needs to sweep Ohio State.
If those two things happen, Miami would jump Michigan in the standings Western would need three points to do so and Michigan State four. Michigan wins all tiebreaker scenarios with Miami, be it at 48 or 47 points.
Moral of the story: Michigan determines its destiny. All the Wolverines need is to muster one point against the last-place team in the league to guarantee a home playoff series.
If that doesn't happen, sorry to say Michigan fans, you might have to root for Ohio State on Saturday.
Basically, Michigan coach Red Berenson put it best last weekend when he said, "As long as we win our games, we'll be in a good position."
Contact Pete Cunningham at petercunningham@annarbor.com or by phone at 734-623-2561. Follow him on Twitter @petcunningham.