Posted on
Wed, Apr 6, 2011 : 1:55 p.m.
Charles Ramsey 'at peace' with Eastern Michigan's decision to fire him
By Pete Cunningham
Hours after being fired as the Eastern Michigan University basketball coach, Charles Ramsey was upbeat and positive.
"I'm really at peace. It's not the end of the world," Ramsey said in a telephone interview with AnnArbor.com. "There's a lot of people in a lot worse shape than I am."
"Am I disappointed? Yeah. But in my 28 years (of coaching), this is the first time I've been through this, so I think I'll recover."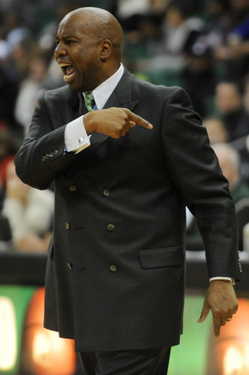 Melanie Maxwell | AnnArbor.com
Ramsey, 50, said the most disappointing aspect of the firing, which the school announced Wednesday morning, was its timing. The recently-completed Final Four in Houston is a traditional place for displaced coaches to make contacts.
That would have also been a place where Ramsey could have lobbied for his assistant coaches -- Derrick McDowell, Carl Thomas and Andrew Moore -- to find work, he said. Associate athletic director for media relations Jim Streeter confirmed that assistants coaches have also been fired and will receive one month of severance pay.
"If you know you're going to be unemployed, you have the time to take your resume, circulate it, talk to certain head coaches and advocate for my assistants for job openings," he said. "Now, with the Final Four over, it's a little more difficult to do those things."
Ramsey was fired after compiling a 68-118 record in six years, including a 37-62 Mid-American Conference mark. His best season was 2009-2010, when the Eagles were 17-15 (8-8). Last season, Eastern finished 9-22 overall (5-11 MAC).
"No regrets, no regrets, no regrets. As coaches and competitors, we all want to win more," Ramsey said. "But guess what? Five of the six years previous to us, the team finished in last place. We never finished in last place and played for a West Division title a couple of times. We came up short, a couple times."
Ramsey, an Ypsilanti native and Eastern Michigan graduate, says he leaves the position proud of his "academic clean-up" of the program. With four players scheduled to graduate this year, Ramsey said -- and media relations director Greg Steiner confirmed -- all 21 of the players he brought into the program will have graduated. That number does not include players who have yet to be on campus for four seasons.
"As an alumni, I'm proud to say that I left the program (academically) in much better shape than when I came in," Ramsey said. "Whoever they decide to go with will come in under much, much smother circumstances and be able to really focus on coaching basketball early on and not have to clean it up."
The Eagles had the MAC's lowest four-year rolling Academic Performance Rate, an NCAA measurement of academic success, before Ramsey's arrival.
Ramsey will be paid $176,416, the balance of the remaining year on his contract. That figure upset Eastern Michigan regent Jim Stapleton, who told the Detroit Free Press that letting Ramsey complete his contract would have been the fiscally responsible thing for the university to do.
Ramsey says the payout provides him the opportunity to figure out with his wife, Allison, what comes next.
"My phone has already started ringing, which is the ironic thing," he said. "I want to coach and be a part of the influence on young people, so whatever direction that takes me, I'll try and go. The luxury I have is that I don't have to dive into something, but I've always worked, so I want to get back into it sooner than later."
Pete Cunningham covers sports for AnnArbor.com. Contact him at 734-623-2561 or petercunningham@annarbor.com.