Posted on
Thu, Jan 12, 2012 : 4:46 p.m.
Chris Brown provides comic relief about Michigan hockey team in personal journal
By AnnArbor.com Staff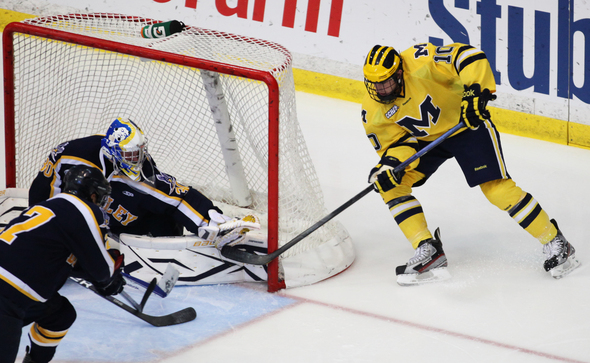 AnnArbor.com file photo
In the build up for the Michigan hockey team's outdoor game on Sunday at Progressive Field in Cleveland against Ohio State, junior defensemen Chris Brown provided the New York Times with a look inside the Michigan locker room.
Always quick with a joke, Brown took the opportunity to poke fun at himself and his teammates.
Everything was fair game.
Brown took shots at Michigan goaltender Shawn Hunwick, "a fifth-year senior at age 24, will bring the wisdom of the game since he's been around since the original six and could tell you the stats of each player," hairstyles of teammates, "Jeff Rohrkemper and Ellen DeGeneres go to the same stylist," and even his hometown of of Flower Mound, Texas, which he calls, "the new hockey hotbed of the United States."