Posted on
Thu, Mar 22, 2012 : 11:32 a.m.
College notebook: Kellen Russell's painful journey prepared him for consecutive national wrestling titles
By Matt Durr
As University of Michigan wrestler Kellen Russell prepared to enter overtime of his NCAA championship match with Iowa's Montell Marion, Wolverines head coach Joe McFarland wasn't nervous when Russell took the mat.
"I don't know if I've ever seen anybody cooler under pressure than him. To win the number of overtime matches he's won over the years in tough, pressure-filled situations, I've never seen it," McFarland said.
Russell scored a takedown with just 23 seconds left in overtime to win 6-4 and secure his second consecutive national championship at 141 pounds. The senior became only the sixth Wolverine in program history to win multiple NCAA championships.
For Russell, it was a triumphant end to a long and painful road at Michigan.
"When I first came in here, it was a pretty humbling experience coming in here and getting beat up a little bit in the room. It's definitely a huge difference between high school and college," Russell said. "It got me to where I needed to be pretty quickly."
McFarland saw things a bit differently.
"I remember that first week in our practice room, Kellen made a pretty big statement. He didn't give anybody around his weight class any respect in the practice room, and I mean that in a good way. He just competed very well right out of the gate. I was like 'wow this kid is going to be something special,' " he said.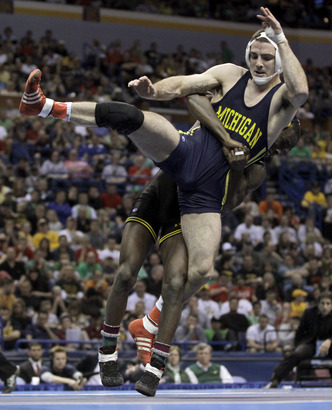 Associated Press
During his sophomore season, Russell tore through his competition en route to a second straight Big Ten title and earned the No. 1 seed in the NCAA tournament. However, Russell faltered during the competition and finished seventh overall.
Despite finishing as an All-American, it left a bad taste in his mouth. It would be two years before Russell had a chance to redeem himself.
"Coming after nationals, I knew I was going to have to get surgery, and it just didn't really go as everybody planned," Russell said.
After developing a staph infection in his right knee, Russell originally was expected to miss three months on the mat. But after surgery, his knee didn't respond well, and he had to go under the knife again. This time, the surgery ended his season.
"It was hard being off the mats for that long. It was frustrating to not be able to help the guys. I could talk to them and tell them what I think, but I couldn't show them a move," Russell said. "It definitely got me more fired up to go, having that year off."
Looking back, both McFarland and Russell said that the time off was a blessing in disguise.
"I think that setback really set the tone. It stoked the fire in him," McFarland said. "The struggles that he went through, to see him go through the rehab and come back and lose only one collegiate match in the next two years, win two more Big Ten championships and two NCAA titles is nothing less than spectacular."
After winning his second championship, Russell now is focused on trying to earn a spot on the 2016 U.S Olympic team. In order to do so, Russell will continue to train at Michigan while learning the intracacies of freestyle wrestling.
Russell looks back at his time in maize and blue with fond memories.
"I think about the tradition, not just the wrestling, but the university. To be able to wear that block M for five years is unbelievable. You really don't understand it when you first get here," Russell said. "After being here, you really learn how special it is. I'll never forget my time here."

U-M gymnastics preparing for Big Ten Championships
The five-time defending Big Ten champion Michigan women's gymnastics team will face an unfamiliar task this weekend when it enters the Big Ten championship in Iowa City, Iowa. The Wolverines will be a part of the morning session, before the top four teams in the conference compete in the nightcap.
Coach Bev Plocki would like to have been a part of the evening session, but still thinks her team can post a high enough score to win the meet.
"We definitely have improved as the season has progressed," Plocki said. "It's really just a matter of everybody coming together and having their best meet together on the same day as a team."
Injury problems have caused concern for the team as currently only seven of the 12 scholarship athletes on the team are cleared to compete. But the team won't use injuries as an excuse for not winning the Big Ten.
"It's been tough, but at the same time, it's pushed us in a good way so that we all are now stepping to reaching what we know we can do," Joanna Sampson said.

EMU pitcher throws a no-hitter
Eastern Michigan softball pitcher Jenna Ignowski threw the 13th no-hitter in program history last Saturday when the Eagles defeated Niagara, 5-0. It is the second no-no in her career for Ignowski, a junior who Wednesday was named the MAC Co-Female Athlete of the Week.

Upcoming home schedule:
Friday:
EMU baseball — 3 p.m. vs. Miami at Oestrike Stadium
U-M baseball — 3:05 p.m. vs. IPFW at Wilpon Complex
Saturday:
U-M women's tennis — 11 a.m. vs. Wisconsin at Varsity Tennis Center
U-M softball — 1 p.m. vs. Penn State at Wilpon Complex
U-M baseball —1:05 p.m. vs. IPFW at Wilpon Complex
U-M men's lacrosse — 3 p.m. vs. mount St. Marys at Michigan Stadium
U-M softball — 3 p.m. vs. Penn State at Wilpon Complex
Sunday:
U-M women's tennis — noon vs. Minnesota at Varsity Tennis Center
U-M softball — 1 p.m. vs. Penn State at Wilpon Complex
U-M baseball — 1:05 p.m. vs. IPFW at Wilpon Complex
Tuesday:
U-M baseball — 3:05 p.m. vs. Oakland at Wilpon Complex
Wednesday:
EMU baseball — 3 p.m. vs. Michigan at Oestrike Stadium
U-M softball — 3:05 p.m. vs. Bowling Green at Wilpon Complex