Posted on
Thu, Mar 22, 2012 : 10:34 p.m.
Cornell goalie Andy Iles prefers 'Lynah Faithful' over 'Children of Yost' and more notes
By Pete Cunningham
GREEN BAY, WISC. -- The student fan sections for the Cornell and Michigan hockey teams are very similar.
In 1991, Cornell's Lynah Faithful mobilized to Ann Arbor for a first round NCAA tournament series and the Michigan students -- inspired by their enthusiasm -- adopted many Cornell traditions and created some of their own.
Both have been chastising opposing goalies ever since.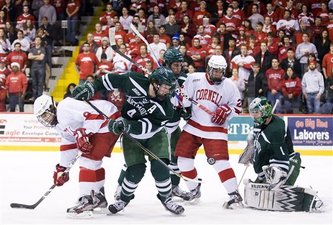 Associated Press
Cornell goalie Andy Iles played in front of both crowds as a visitor when he was a member of the United States National Team Development Program's Under-18 team. In his admittedly biased opinion, the Lynah Faithful have the edge on the Children of Yost.
"I think we've got the greatest fans in college hockey," Iles said. "I've played at Yost, in front of Yost fans. The Lynah Faithful are something special."
Iles, an Ithaca, N.Y., native, isn't exactly the most objective source on the matter and didn't have an answer for which crowd rides goalies harder. He didn't see any playing time when the USNTDP team played against Michigan and when he made 39 saves in a 3-2 win at Cornell, the fans were easy on him.
"I was getting ridden pretty hard, but I was actually committed (to Cornell) at that time, so they took it a little easier than some of the opposing goalies typically get," Iles said. "Both arenas are great places to play hockey and those are two symbols of what college hockey is all about."
Michigan defenseman Kevin Clare was a teammate of Iles' on the development team, as were Luke Moffatt and Jon Merrill. Clare gives the Yost fans the edge in goalie abuse, but only because he remembers Cornell's fans going easy on Iles. Otherwise he said, it's a push.
"I'd say they're pretty similar (fan bases to play against)," Clare said. "Both fans were very excited for the game and very into it."

Gamblers' anonymous
Michigan freshman forward Travis Lynch played the last two years for the Green Bay Gamblers of the United States Hockey League. The Gamblers' home rink is the Resch Center, which will host the Midwest Region of the NCAA tournament on Friday and Saturday.
Lynch's former teammate, Scott Czarnowczan, a sophomore defenseman for Ferris State, returned to Resch for the the first time since the two won a USHL championship there two years ago.
"It's unbelievable coming back here. It brings back good memories," Czarnowczan said on Thursday.
Czarnowczan hopes to play against former Gamblers linemate David Makowski when Ferris plays Denver on Friday, but isn't sure if he'll get the opportunity. Makowski has been out the past 22 games with an undisclosed upper body injury. He traveled with the team to Green Bay, but Denver coach George Gwozdecky was cryptic about which if any of his six injured players will play this weekend, stating that he had a lot of game-time decisions to make.
Czarnowczan couldn't even get the scoop from his friend. Makowski told him that he's still "day-to-day."

Tournament streaks
Michigan's 22-year NCAA Tournament streak is the nation's longest and, in turn, the longest at the Midwest Regional. Next closest is Denver which is playing in its fifth straight tournament.
Cornell is in its third tournament in four years, missing out in 2011. The Big Red are back in the Midwest Regional for the first time since losing a triple-overtime game in the 2006 final to eventual national champion Wisconsin.
Ferris is in the tournament for just the second time in program history. The first was in 2003, when the Bulldogs lost in the West Regional final to eventual national champion Minnesota.
Longtime Ferris State coach Bob Daniels said he's looking forward to his second time around.
"Last time, I didn't know what to expect, I went in there very nervous," Daniels said. "I think because I was nervous probably the players were a bit nervous."

All business
Ferris, Denver and Cornell all practiced in the Resch Center with music blaring over the loudspeakers. Michigan had the music turned off prior to its practice.
Contact Pete Cunningham at petercunningham@annarbor.com or by phone at 734-623-2561. Follow him on Twitter @petcunningham.