Posted on
Thu, Jan 5, 2012 : 2:57 p.m.
Dave Brandon talks with NHL about 2013 Winter Classic at Michigan Stadium
By Pete Cunningham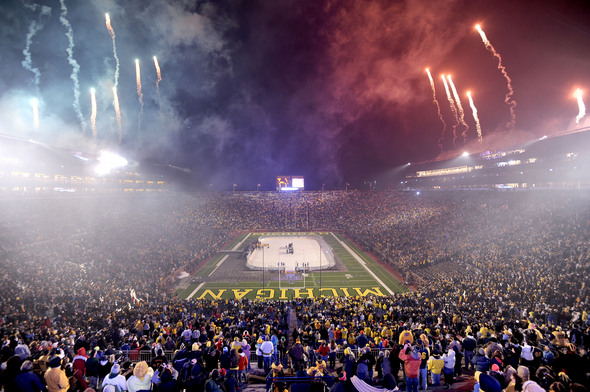 AnnArbor.com file photo
File updated at 9:30 p.m.
The next outdoor hockey game at Michigan Stadium may feature National Hockey League teams.
Michigan athletic director Dave Brandon confirmed Thursday that he has been approached by the NHL about playing host for the Winter Classic, in what would be the league's sixth annual New Year's Day outdoor game.
"We have been approached by the NHL about utilizing our facility for the 2013 Winter Classic," Brandon said in a statement. "There are a lot of complex circumstances that need to be ironed out before anything moves forward. We will have more to say if/when something materializes."
The NHL has yet to announce which teams would play in next year's Winter Classic, but the fact that Brandon has been approached suggests rumors about the Detroit Red Wings being eyed as potential participants to be true. The Red Wings played against the Chicago Blackhawks in the 2009 Winter Classic played at Wrigley Field.
NHL commissioner Gary Bettman has delayed his announcement of participants in the past. He didn't name the Philadelphia Flyers and New York Rangers as the 2012 participants until Sept. 25, 2011.
NHL vice president of communications John Dellapina declined to comment on the NHL's interest in playing at the Big House.
"We don't comment about potential sites for specific Winter Classics until contracts are signed," Dellapina said in an email.
The Red Wings are owned by Mike Ilitch, who also owns the Detroit Tigers and Comerica Park, so among the complex circumstances that would need to be ironed out are how the profits would be split — be it from ticket sales, merchandise, vending, television rights, etc. — in an outside venue.
The obvious draw of Michigan Stadium is its capacity, officially listed as 109,901 but with a record attendance of 114,804. The attendance for the 2010 outdoor hockey game between Michigan and Michigan State (The Big Chill at the Big House) was 104,173, a world record and more than double the official capacity of Comerica Park (41,255).
Pete Cunningham covers sports for AnnArbor.com. He can be reached at petercunningham@annarbor.com or by phone at 734-623-2561. Follow him on Twitter @petcunningham.